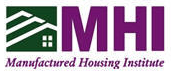 Congressional Leaders Inch Toward Tax Bill
With partisan tensions easing, congressional negotiators are closer to a year-end deal that would address a range of expiring programs, from the Social Security payroll tax cut that has benefitted approximately 160 million workers, to long-term unemployment benefits, and Medicare payments to physicians. Senators will be working into the weekend on a final compromise measure.
A host of additional popular tax-credit programs aimed at promoting energy efficiency— including the New Energy Efficient Tax credit for manufactured homes which is scheduled to sunset this year are still being considered for inclusion in the year-end tax vehicle. Specifically, manufacturers who build ENERGY STAR homes are eligible to receive a $1,000 tax credit while modular home builders are eligible to receive a $2,000 tax credit by exceeding the International Energy Conservation Code (IECC) by 50 percent.
In recent years, it has become the norm for Congress to authorize these tax breaks for a year at a time, allow them to lapse for a short time and then renew them retroactively. Despite protests that this practice creates uncertainty for taxpayers, lawmakers have generally concluded that retroactive extensions are sufficient because the tax filing season itself is backward-looking.
Because of the importance of the New Energy Efficiency Home Tax Credit, MHIis urging members to personally contact their Representatives to act quickly to extend these pro-growth, pro-job provisions. The lack of timely congressional action to extend these provisions would inject more instability and uncertainty into the economy and further weaken confidence in the marketplace.
Congress Reaches Spending Agreement, Poised to Recess for Remainder of Year

On December 15th, it was announced that House and Senate leaders had reached an agreement to complete work on the FY2012 spending bills. Currently, the federal government is operating under a continuing funding resolution that is set to expire on December 16th.
Appropriations committee leaders are said to have completed negotiations on a nine-bill omnibus appropriations bill (H.R. 2055) that would provide $915 billion in spending for the remainder of the fiscal year and that approval of the measure will come in time to avoid a government shut down.
With enactment of the 2012 spending bills imminent and Congress working to pass measures to extend the Social Security payroll tax cut; continue long-term unemployment benefits; and prevent cuts in physician Medicare payments, the House and Senate are currently scheduled to recess for the remainder of the year on December 23. Both chambers will not reconvene until mid-January of 2012 (House: January 17/Senate: January 23).