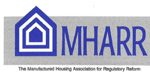 Multi-unit HUD Code manufactured homes took another step forward on May 5, 2015, as the General Subcommittee of the Manufactured Housing Consensus Committee (MHCC), following a two-hour conference call, unanimously approved a slate of proposals designed to authorize — and establish certain standards for – such homes.
Under the proposals developed by a General Subcommittee Task Force and debated during a March 26, 2015 conference call meeting (see, April 16, 2015 MHARR Washington Update), the HUD standards, for the first time, would expressly permit multi-unit HUD Code manufactured homes with up to three distinct and independent living areas ("dwelling units"), subject to certain requirements regarding fire safety, ventilation, power and water distribution, and other issues related to potentially higher occupancy levels within such multi-unit homes.
Most importantly, the proposals approved by the Subcommittee would add a new definition of "dwelling" to the HUD standards, based on the statutory requirement that manufactured homes be "designed to be used as a dwelling." Under the proposed definition, a "dwelling" would mean "any structure that contains one to a maximum of three dwelling units, designed to be occupied for residential living purposes." A "dwelling unit," in turn, would be defined as "a single unit providing complete independent living facilities for one or more persons, where the occupancy is primarily permanent in nature, including permanent provisions for separate living, sleeping, cooking, sanitation and eating."
All of this activity arises out of an October 3, 2014 "Guidance Memorandum" issued by the HUD program Administrator threatening enforcement action against homes designed for other than "single-family use" based on section 3280.2 of the HUD standards. MHARR immediately objected to that Memorandum on the grounds that the National Manufactured Housing Construction and Safety Standards Act of 1974 (as amended) does not limit HUD Code manufactured housing to "one-family" or "single-family" use and that HUD Code producers, retailers and communities should not be exposed to potential litigation or fines based on what does – or does not – constitute a "single-family." At its December 2014 meeting, the MHCC agreed with MHARR's concerns and tasked the General Subcommittee with addressing potential issues relating to aspects of multi-unit HUD Code homes.
Pursuant to the vote of the General Subcommittee, the slate of multi-unit proposals will be forwarded to the full MHCC for consideration, presumably at its upcoming in-person meeting in Washington, D.C. during the week of August 17, 2015.