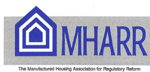 The Structure and Design Subcommittee of the Manufactured Housing Consensus Committee (MHCC) met by telephone conference call on April 23, 2013. As was previously reported, notice of the subcommittee meeting was published by HUD in the Federal Register, complying with a long-standing request by MHARR for public notice of such subcommittee meetings.
Although scheduled for three hours, the meeting addressed a relatively limited agenda, including: (1) a long-pending alternative foundation system testing proposal; (2) a proposed alternative formaldehyde product testing method; and (3) three related proposals to update the existing HUD reference standards for windows and sliding glass doors (24 C.F.R. 3280.403), egress window systems (24 C.F.R. 3280.404) and swinging exterior passage doors (24 C.F.R. 3280.405).
The alternative foundation system testing proposal, which is not currently framed as regulatory language and may well be unnecessary in light of existing HUD regulations which allow PIAs to accept foundation system designs approved by a Registered Professional Engineer or Registered Architect, was quickly tabled pending further investigation.
Similarly, no action was taken on the alternative formaldehyde testing protocol. That proposal, submitted by a third-party PIA — which did not produce a representative at the meeting to respond to questions — would allow the use of a smaller product testing chamber as an alternative to the current methodology. Formaldehyde testing, however, could be impacted by Environmental Protection Agency (EPA) action on a congressionally-mandated rule that would impose nationwide formaldehyde emissions criteria for certain composite wood products already adopted by the California Air Resources Board (CARB). With no proposed EPA rule yet on the radar screen, though, this matter will remain on the subcommittee docket for possible future consideration. For now, MHARR is highly skeptical of and inclined to oppose – as it advised the subcommittee — any changes to the HUD formaldehyde testing standard, given its long-term success in virtually eliminating formaldehyde issues in a cost-effective manner and the absence of more specific cost information.
The final three proposals to update the HUD reference standard for certain windows and doors from the 1995 (or 1985) version to the 2012 version maintained by the American Architectural Manufacturers Association (AAMA) – involving either non-substantive editorial changes or manufacturing changes that have already been implemented by product suppliers – were approved by the subcommittee and will be submitted for consideration by the full MHCC at its next meeting. In response to questions by MHARR and subcommittee members regarding potential cost implications, an AAMA representative indicated that any cost impact should be minimal, given that remaining windows or doors certified to the 1995 standard would continue to be eligible for use and that the relevant component manufacturers are already complying with the newer 2012 reference standard.
Beyond these substantive actions, the meeting was significant for several procedural and policy developments – all of which have been sought be MHARR. First, as noted above, the meeting was conducted pursuant to proper, time-adequate public notice for the first time in recent MHCC history. Second, HUD did not attempt to limit "public" comments by non-MHCC members to a specific time block in advance of the debate and instead allowed participation by MHARR and other non-MHCC members in the debate as it proceeded; and third, HUD insisted on compliance with Roberts Rules of Order – even when those rules conflicted with the Administering Organization's procedures — something that it had not done previously. In addition, HUD also indicated that it was attempting to schedule an in-person MHCC meeting, the lack of which has been cited by MHARR in its recent public communications with industry members, Congress and directly with HUD.
MHARR will continue to closely monitor all MHCC and MHCC-related activity and will vigorously advance the views and interests of HUD Code manufacturers on all such matters.