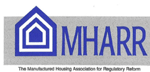 As a follow-up to our previous report, dated August 4, 2011, regarding a biased and flawed study entitled "Manufactured Home Fires – July 2011,"published by the National Fire Protection Association (NFPA) and distributed to members of the Manufactured Housing Consensus Committee (MHCC), attached, for your review and information, are copies of MHARR's August 3, 2011 letter to NFPA President James Shannon pointing out the incomplete, inadequate and skewed data underlying this "study;" a copy of NFPA's August 12, 2011 response to MHARR's letter, from its Vice President of Field Operations; and a copy of MHARR's August 30, 2011 reply to NFPA.
The NFPA report, as demonstrated in the MHARR letter to Mr. Shannon, selectively skews generally positive statistics showing that manufactured homes have a much lower incidence of fire and a lower rate of civilian fire injuries than other types of one or two-family homes, minimizing these and other statistics demonstrating the positive and beneficial impact of the current HUD fire safety standards, in order to present an unduly negative assessment of the fire safety of manufactured homes – all leading to the predictable conclusion that there is a "strong" case for fire sprinklers in manufactured homes.
In its August 12, 2011 response, NFPA does not specifically dispute these flaws or the conflict of interest inherent in its advocacy of residential fire sprinkler mandates while serving as the supposedly policy-neutral Administering Organization (OA) of the MHCC. Instead, it states only that the July 2011 "update" had been "requested" by the MHCC and that NFPA will have staff members at the upcoming October 2011 MHCC meeting to "review the report methodology and results with committee members."
As MHARR notes in its response, however, the MHCC acts collectively in accordance with its legislative authority and bylaws, and there is no indication in the official records of the MHCC that the Committee requested such a report or update as a committee. Moreover, even if it did, that is no justification for presenting a report that relies on inadequate, incomplete and skewed data, as the report itself indirectly acknowledges.
With the setbacks that residential sprinkler advocates have suffered around the country in recent months, they are clearly re-doubling their efforts to target manufactured housing for a federal sprinkler standard, recognizing that by requiring sprinklers nationally in HUD Code homes with one stroke of the pen, via a federal standard, they can then use that mandate for an entire class of homes as a precedent in their efforts to persuade state and local governments to adopt requirements for sprinklers in other types of housing. It is therefore essential that the industry stand firm against any effort to include a sprinkler mandate in the HUD Code, either as an across-the-board mandate or via a "where required" standard that would inevitably be expanded to cover all HUD Code homes.
As always, MHARR will have representatives at the October 2011 MHCC meeting to address both the flaws in the NFPA report and conflict of interest issues … as well as other topics on the MHCC meeting agenda.
We will continue to keep you updated on this matter as new developments unfold.

MHARR's August 3, 2011 letter to NFPA President James Shannon