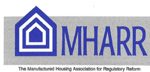 Attached please find your copy of the November 9, 2016 
"MHARR WASHINGTON        UPDATE" 
an exclusive report and analysis addressing:
·         NEW PRESIDENT TO ADDRESS UNNECESSARY AND COSTLY REGULATION
·         DOE PUBLISHES PROPOSED TESTING STANDARDS FOR MH
TRUMP VICTORY A BOOST FOR AFFORDABLE HOUSING AND CONSUMERS
Donald J. Trump's victory in the November 8, 2016 presidential election promises to bring a sharply different approach to both future and existing federal regulation than has been the case for the past eight years of the Obama Administration, and could mark a return to free market-based regulatory policies not seen since in Washington, D.C. for nearly thirty years.   
With a personal background in business, rather than government, Mr. Trump – during the just-ended campaign – has been a consistent critic of innovation-stifling and job-killing overregulation and regulators who ignore or rationalize the far-reaching negative impacts of such regulations on the health of the economy, smaller businesses and consumers.
In an August 2016 speech, for example, Mr. Trump stated: "We will impose a temporary moratorium order on new agency regulations. We'll cancel all illegal and overreaching executive orders signed by President Obama. We will eliminate all regulations that kill jobs. We will remove the bureaucrats that only know how to kill jobs and replace them with experts who know how to create jobs without regulations."  Such a fundamental change in approach would be perfectly attuned to manufactured housing, which offers a free-market, unsubsidized affordable housing solution for all Americans, but has been artificially limited and constrained by needless, unnecessarily-costly and excessive regulation affecting a wide range of production and post-production activities, as well as consumer financing (for example the Federal Housing Administration's excessive "10-10" rule).
A fresh approach to unnecessary and needlessly-costly federal manufactured housing regulation along the lines stated by the president-elect, requiring legitimate ground-up evidence to support any new – or existing regulation – showing both the need for regulation and real benefits for consumers (as required already by the Manufactured Housing Improvement Act of 2000), rather than wasteful and unnecessary make-work for entrenched contractors, would have a tremendously positive impact on the manufactured housing industry and the Americans who rely on manufactured housing as the nation's most affordable source of non-subsidized home ownership.
To fully appreciate the impact of such a change within the manufactured housing regulatory arena, one need only consider the long and growing list of new regulations – and pseudo-regulatory initiatives — that are either in process, or have been adopted and/or implemented in recent years.  These include, but are not limited to:
The pending U.S. Department of Energy (DOE) "energy conservation" rule for manufactured housing, which would needlessly add more than $6,000.00 to the cost of a new manufactured home for features that are already available for consumers who want them.  The latest piece of this rule (see, article below), was just published by DOE on November 9, 2016;
HUD's highly-prescriptive, baseless and overly-costly mandates for "frost-free" foundations;
HUD's related attempted takeover of approved state-law installation programs;
HUD's highly-prescriptive, inflexible and unnecessarily-costly "on-site construction" rule; and
HUD's unnecessary and unnecessarily costly program of expanded in-plant regulation —
among other things.
As is always the case for a comprehensively-regulated industry such as manufactured housing, however, the industry will need to approach this new opportunity to establish a sound basis for the federal program – that fully and properly complies with all aspects of the 2000 reform law – the right way.
DOE PRESSING TO COMPLETE MH ENERGY RULE
 Another piece of the proposed DOE manufactured housing energy rule was published in the Federal Register on November 9, 2016.          This proposed rule would establish "test procedures to support … proposed manufactured housing thermal envelope requirements, air leakage requirements and fan efficacy requirements" as already set forth by DOE in its June 17, 2016 energy conservation standards proposed rule.  Comments on the proposed testing methods are due on or before December 9, 2016.
Significantly, these testing requirements do not address and do not propose a compliance or enforcement system for the excessive, unnecessary and fundamentally-tainted June 17, 2016 proposed "energy conservation" standards developed by DOE pursuant to an illegitimate and fatally-flawed "negotiated rulemaking."  As DOE notes in the preamble to the proposed testing methodologies: "DOE has not included or proposed any additional compliance or enforcement provisions at this time.  DOE anticipates that it will address issues related to certification, compliance and enforcement of the proposed standards in a separate rulemaking.  DOE will address any associated costs resulting from the compliance or enforcement as part of that rulemaking."  (Emphasis added).  As a result, the fatal flaws in the statutorily-mandated cost – benefit analysis contained in DOE's June 17, 2016 rule, as emphasized by MHARR, the Manufactured Housing Consensus Committee (MHCC), the George Washington University Regulatory Studies Center and other commenters in that docket, have not, will not and cannot be resolved or remedied by DOE.
Accordingly, MHARR continues to strongly oppose that proposed rule in all of its aspects as fundamentally and irretrievably tainted and illegitimate, and will pursue available remedies as warranted – as should all other manufactured housing program stakeholders, including consumers.  Consistent with its overall approach to this action, MHARR will submit comments on DOE's proposed testing regulations in advance of the December 9, 2016 deadline and will make those comments available to industry members for their own use and/or information.