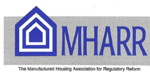 As was reported previously and addressed at the MHARR Board of Directors meeting on November 8, 2013, attached for your review and information is a copy of a letter sent to Government National Mortgage Association (GNMA) President Theodore Tozer on November 15, 2013, urging GNMA to conduct a full review and re-evaluation of the highly-restrictive 10-10 criteria for GNMA-securitized Federal Housing Administration (FHA) Title I manufactured housing chattel loan issuers.
By way of background, at a December 14, 2011 meeting between President Tozer, other senior GNMA officials and members of the MHARR Executive Committee, (please see your copy of MHARR's December 19, 2011 memorandum concerning this meeting for additional details) GNMA indicated that the 10-10 criteria (requiring $10 million net worth and 10% retainage of all mortgage backed securities for all GNMA-securitized Title I issuers) were subjective and based on old information, and could be re-evaluated by GNMA based on more recent performance data.
A relaxation of the 10-10 criteria is critical to an expansion of the number of high-volume chattel lenders which, in turn, would spur increased production. Since their implementation, the 10-10 criteria have effectively restricted FHA Title I originations to just one large entity (actually two entities under common corporate control), undermining competition and consumer choice within the Title I market, while FHA originations of the most popular type of financing available to lower and moderate-income homebuyers have plummeted to approximately 1% of peak program volume levels that were once in excess of 20,000 originations per year (i.e., fewer than 200 loans annually). The 10-10 requirements have thus had a profoundly negative impact on both the industry and consumers of affordable housing.
While it is not publicly known whether industry finance companies provided more recent loan performance information to GNMA (i.e., loan performance data for home sited after the Manufactured Housing Improvement Act of 2000) in the wake of the December 14, 2011 meeting, MHARR believes that relevant and potentially crucial information could be available to GNMA as a result of its contractual relationship with the one current GNMA-approved and securitized FHA Title I lender, Vanderbilt Mortgage and Finance, Inc., which — as was uncovered by MHARR earlier this Fall – has a $1.3 million sole source contract with GNMA to act as a Title I "servicing" agent.
Accordingly, MHARR's communication urges GNMA to seek the relevant data from Vanderbilt – which should confirm industry members' belief that the performance of current-day manufactured housing loans is comparable to that of other types of housing — and hopefully lead GNMA to take quick action to re-evaluate, reconsider and relax the 10-10 rule.
We shall monitor any further developments concerning this matter and advise you accordingly.