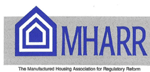 Washington, D.C., October 14, 2013 – Senior officials of the Manufactured Housing Association for Regulatory Reform (MHARR) held constructive talks with leaders of the National Manufactured Home Owners Association (NMHOA) on October 3, 2013 in Denver, Colorado, in conjunction with NMHOA's annual convention.
NMHOA is the leading voice for the nation's 18 million manufactured home owners and their families. NMHOA is also an active participant in the federal manufactured housing program, with NMHOA members and staff currently holding three of the seven "User Group" (i.e. consumer) seats on the Manufactured Housing Consensus Committee (MHCC).
With the major issues confronting the manufactured housing industry today, millions of homeowners across the nation are a critical constituency and a key potential ally in advancing legislation and policy initiatives at the Capitol that are essential to revive the industry and ultimately expand the availability of truly affordable, non-subsidized homeownership opportunities for all Americans. Consequently, the MHARR-NMHOA meeting focused on two fundamental national issues where the overlap between industry and consumer interests is particularly strong – (1) preservation of the federal manufactured housing program and full implementation of the Manufactured Housing Improvement Act of 2000; and (2) expanding the availability of – and access to – both public and private sources of manufactured home consumer financing.
Concerning the 2000 law and federal program, MHARR emphasized that HUD — as the regulator of the manufactured housing industry — has either ignored, circumvented or downgraded the centerpiece reforms of the 2000 law (i.e., enhanced federal preemption, an appointed non-career program administrator and a strong, independent MHCC). These HUD actions have been the focus of an ongoing probe by the Government Accountability Office (GAO), as well as a congressional oversight hearing on February 1, 2012 — at which representatives of both MHARR and NMHOA testified. While MHARR testimony highlighted specific issues relating to the 2000 law, NMHOA's testimony focused more on the concerns of homeowners living in land-lease communities.
Similarly, with regard to consumer financing, MHARR stressed that the main roadblock facing potential purchasers' access to manufactured housing is a lack of consumer financing driven by the unavailability of high-volume manufactured home loan securitization (particularly for personal property "chattel" loans) in the private sector, through the Government Sponsored Enterprises (GSEs), and the public sector, through the Federal Housing Administration (FHA). The industry and homeowners, however, have a window of opportunity to change this dynamic – now — by insisting on the definitive, mandatory inclusion of manufactured housing loans in the comprehensive GSE reform legislation currently being shaped in Congress. This is particularly important given the fact that over 70% of manufactured home placements for both new and existing homeowners (according to U.S. Census Bureau data) are titled as chattel.
With respect to both of these issues, the collective involvement of homeowners – hopefully in cooperation with MHARR and the industry – will be critical.
Following the NMHOA-MHARR talks in Denver, NMHOA President, Lois Parris stated, "NMHOA appreciates MHARR's outreach to the manufactured homeowners it represents and its effort to establish a cooperative working relationship on key matters of mutual concern in Washington, D.C. With the insights gained by each organization at today's meeting, we can begin to work together to ensure the long-term viability of quality manufactured homes as part of the solution to the affordable housing crisis in this country."
MHARR Chairman, John Bostick, added: "MHARR has always prided itself on its engagement with Americans who buy – and live – in the homes that our members build. The cooperation and involvement of homeowners in matters affecting the industry has always been vital, such as their key role in advancing and enacting the landmark Manufactured Housing Improvement Act in 2000. We hope to go forward from our meeting today with a positive foundation for cooperation with homeowners on these two vital issues affecting the manufactured housing industry, current homeowners and, most importantly, the manufactured homeowners of tomorrow."
The National Manufactured Home Owners Association is a national association representing manufactured homeowners throughout the United States. To communicate with NMHOA, contact its Executive Director, Ms. Ishbel Dickens, via email, at Ishbel@NMHOA.org