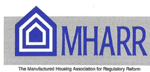 Ensuring the Future of Manufactured Home Financing- Including the securitization of Chattel Loans
Industry and Consumers Face Crucial Challenge on Chattel Financing GSE Reform Takes Shape in Congress
As announced in June 2013, MHARR has prepared a white paper analyzing the treatment and status of HUD Code manufactured home financing and specifically manufactured home personal property (i.e., chattel) financing under a bipartisan Senate GSE reform bill (S. 1217) introduced on June 25, 2013 by Senators Mark Warner (D-VA) and Bob Corker (R-TN). At the time that analysis was prepared, however, a House GSE reform bill had not yet been introduced or announced. With the July 11, 2013 Financial Services Committee announcement of a House GSE (and Federal Housing Administration) reform bill entitled the "Protecting American Taxpayers and Homeowners Act" (PATH), however (a copy of which has been reviewed by MHARR), this new report and analysis is now necessary.
With these GSE reform bills either introduced already (Senate) or poised to be introduced imminently (the House Financial Services Committee has scheduled a hearing on the PATH Act to take place on July 18, 2013), the future of the nation's housing finance system – including manufactured home financing – is poised to be addressed during the 113th Congress and is reported to be a top priority for both parties. As this issue and the competing House and Senate bills take center stage in Congress, both the manufactured housing industry and consumers of affordable housing face a crucial challenge to ensure: (1) that manufactured housing is included and properly addressed in any final bill; (2) that personal property (chattel) financing remains a viable option for purchasers seeking to access the industry's most affordable homes; and (3) that securitization support for manufactured home chattel loans is available on a high-volume, non-discriminatory basis, through whatever institutions, entities or mechanisms are ultimately established to succeed the existing Government Sponsored Enterprises.
The positive news for the manufactured housing industry and manufactured homebuyers from these bills is that the broad reform patterns envisioned by Congress are consistent with emerging Obama Administration housing finance policy that favors maintaining reasonable secondary market support mechanisms for credit-worthy moderate and lower-income consumers of affordable housing, senior citizens and first-time purchasers (rather than higher-income borrowers) who constitute the core of the manufactured housing market. Thus, the emerging housing finance support structure could favor those consumers who would be more inclined to purchase an affordable manufactured home, rather than other more costly types of housing. This positive, however, could turn into a disaster for the industry and consumers if manufactured housing and, more particularly, manufactured home chattel loans, are not clearly and unequivocally included — and supported, on a non-discriminatory basis — within any final GSE reform legislation.
Given the importance, specifically, of chattel financing to the manufactured housing industry and consumers of affordable housing, maintaining and expanding the availability of chattel loans via appropriate legislation was one of the three mutually agreed areas of cooperation (together with the appointment of a qualified non-career manufactured housing program administrator and the re-establishment of collective industry MHCC representation) identified and prioritized by the leadership of MHARR and MHI in January 2013. When the MHARR-MHI working group met again in Washington, D.C. on May 22, 2013, however, activity on specific proposals to advance manufactured home financing and particularly high-volume chattel loan securitization was deferred by the group. This step was taken because the group agreed that it was necessary to maintain a full industry focus on legislation (i.e., H.R. 1779 and a corresponding Senate bill) to correct serious flaws in the Dodd-Frank law (and resultant regulations) prior to the January 1, 2014 regulatory implementation date for debilitating restrictions on the origination of manufactured home loans. Thus, in order to prioritize and maintain a clear and undiluted focus on fast-track legislation to address Dodd-Frank, the joint working group agreed to defer broader financing – and financing availability – activity to a later date.
Now, though, with recently announced regulatory changes by the Consumer Finance Protection Bureau (CFPB) that would address these Dodd-Frank concerns, as well as the inclusion of the substance of H.R. 1779 in the House PATH bill – but with manufactured home financing not otherwise clearly addressed in either the House or Senate bill — it appears, from hindsight, that the industry should have acted to simultaneously advance both the Dodd-Frank "fix" and a definitive bookmark for manufactured home financing (including chattel loans) in both GSE reform bills. While this lost time and opportunity to address the GSE reform legislation in its earliest formative stages cannot be recaptured, the industry must act now to ensure the proper inclusion of manufactured housing in any final GSE reform legislation – and the two associations will be moving in that direction shortly.
Although some reports maintain that manufactured housing and specifically manufactured home chattel loans "should" already be included in the House bill, based on certain language regarding Dodd-Frank qualified mortgages (QM), the industry should have learned from its experience with the "Duty to Serve" (where regulators took advantage of discretionary "may consider" language instead of mandatory "shall consider" language to exclude chattel loans) that "should" and "maybes" are not good enough, especially on a matter as fundamental and critical as financing. Accordingly, the industry and consumers should be seeking — now — a specific "bookmark" for manufactured housing and chattel financing in both bills in order to protect against any unintended consequences. If not, the industry, which was not "at the table" during the development and vetting of the Dodd-Frank law (as candidly and correctly acknowledged by 21st Mortgage President Tim Williams in a recent interview on MHProNews.com — "part of the reason we have the Dodd-Frank issues [today] is that we were not at the table when the legislation was being drafted"), risks even more dire consequences from its potential exclusion of manufactured housing and/or manufactured home chattel financing from any final GSE reform legislation. Moreover, there is no legitimate reason why manufactured homes and manufactured home chattel financing should be excluded from any such legislation when both bills utilize a "risk sharing" system in any event (see, additional detail below).
The reality, very simply, is that proposals solidify into legislation, followed by committee action on such legislation, which then becomes difficult to change. Not taking action now to specifically and unequivocally include manufactured housing and specifically chattel loans in these bills would be an even greater strategic error than the industry's failure to address manufactured housing at the proper time during the development of the Dodd-Frank law.
Focused and intensive action by the industry and consumers, encompassing multiple aspects and elements, will thus be necessary in the very near term. And while those aspects and elements are subject to – and will inevitably be impacted by — a multitude of factors, not all of which are currently known or even predictable, the basic outlines of a path forward, toward the inclusion of manufactured housing and specifically high-volume chattel loan securitization in a final GSE (and potentially FHA) reform bill, and an end to securitization/insurance discrimination against manufactured home loans and consumers, is relatively clear.
The Need for Chattel Financing
The need for high-volume chattel financing – and its importance to both the industry and consumers — is made clear by relevant market data. According to U.S. Census Bureau statistics, in 2011, 76% of all manufactured home placements were titled as chattel. This points to chattel as the predominant financing mechanism for manufactured homebuyers. Other statistics indicate a trend within the manufactured housing market toward the type of smaller, more affordable single-section homes that are most often financed through chattel loans. Thus, in 2011, the volume of single-section and multi-section homes reached near-equilibrium – with 25,289 single-section homes and 26,317 multi-section homes – reversing previous movement toward multi-section homes. The widespread, competitive availability of chattel financing, that is feasible only through high-volume securitization, is thus critical not only to consumers of affordable housing, but also the viability and survival of the manufactured housing industry.
The House and Senate Bills
While the House and Senate GSE reform bills share certain common features, such as the wind-down of the existing GSEs over a specific finite period, the bills differ in the ultimate shape of the housing market support structure that they would create. The Senate bill, for example, would replace the current GSEs with a "Federal Mortgage Insurance Corporation" employing a partially privatized system that would provide a 90 percent institutional guarantee, with private financiers taking the "first loss" of as much as 10 percent of any given loan. The Senate legislation would also wind down the current system of affordable housing goals and replace it with a "user fee" that would finance an affordable housing fund. The draft House bill, by contrast, would totally eliminate the de facto taxpayer guarantee that currently supports 85% of new home mortgages and $5.1 trillion in mortgage debt, and instead leave the risk of losses within a new private-sector structure. The bill would also eliminate the traditional GSE "affordable housing goals" and arguably – although not directly addressed – the "duty to serve underserved markets," including manufactured housing (DTS), adopted by Congress as part of the Housing and Economic Recovery Act of 2008 (HERA).
Under both bills, however, unless action is taken to expressly include manufactured housing and manufactured housing chattel loans as a specific category of loans to be supported in high-volume through structures established for that purpose – and not simply left to chance with a small handful of players within the private market with the necessary high capitalization to sustain the entirety or vast majority of any risk associated with those loans – the limited availability of such loans today, and the limited competition within the market, will only get worse. There are two relevant periods to be addressed by the industry and consumers – the interim GSE wind-down period and the final market structure replacement after the five-year wind-down period.
Interim Wind- Down Period
Under both the House and Senate bills, the existing GSEs would be wound-down within five years through progressive yearly reductions in mortgage guarantees, with corresponding reductions in the maximum amount that can be guaranteed (i.e., a maximum of $525,500 after five years). During this period, when the GSEs will continue to exist and operate, an appropriate provision in the final GSE reform bill could be used to require the GSEs to comply with DTS and amend DTS to require the mandatory inclusion of manufactured home chattel loans – as contrasted with the discretionary "consideration" of chattel loans under DTS in its current form. Given the likelihood, under any final bill adopted, that the GSEs would be wound-down over a significant period of time, during which high-volume securitization support for manufactured housing and manufactured housing loans would still be needed in order revitalize the industry and expand the availability of affordable manufactured homes, the industry should seek specific recognition of the applicability of DTS during this interim period – and a DTS corrective amendment to mandate the inclusion of chattel loans within DTS – as part of any GSE reform legislation.
At the same time, while GSE reform legislation is being considered by Congress, the industry and consumers should be active in ensuring that the Federal Housing Finance Agency (FHFA) is actively pursuing the financing of manufactured housing loans in its "risk sharing" pilot program that is the conceptual basis for many aspects of the reforms being considered by Congress. Since it may take some time for congress to adopt final GSE reform legislation, this pilot is – and will continue to be – a primary focus with respect to the future of GSE reform. It is critically important that early results confirm that a thriving, affordable market can exist for manufactured homes under a risk sharing system.
Final Market Support Structure
Although the final market support structure under the House and Senate bills would differ somewhat, in that the Senate version, among other things, would still retain a partial federal guarantee, while the draft House bill would not, neither bill specifically includes manufactured home loans (other than the Dodd-Frank provisions of the House draft) or, more particularly, manufactured home chattel loans. To the contrary, the Senate bill would appear, at present, to exclude manufactured home chattel loans in that it defines "eligible loans" as "residential real estate loan[s] secured by a property with 1 to 4 single family units." (Emphasis added). While the House bill is arguably broader, referring to "residential mortgages," the industry and consumers cannot afford to gamble on legislation that could exclude chattel loans – as the predominant form of manufactured home financing – from the home finance replacement structure it envisions. Consequently, the industry and consumers should advance specific language in both bills – potentially in the form of definition language — to clarify that "residential mortgages" include all types of manufactured housing loans, whether real estate, chattel, land-home or other hybrid and that all such mortgages should be included as part of the final market support structure and its mission.
Moreover, if the Senate bill ultimately becomes the platform for final GSE reform, there would be other potential avenues for the inclusion manufactured home chattel loans, such as the proposed Market Access Fund, which would authorize and provide support for new types of activities such as grants, loans, credit enhancement and other forms of credit support for "sustainable homeownership and affordable rental programs. . . for the benefit of families whose income does not exceed 120 percent of the area median income."
FHA reform is addressed by the House draft bill. As with the GSE provisions, FHA reform under the House draft would involve increased "risk sharing" with private-sector investors, with FHA insurance exposure reduced by approximately half at the conclusion of a five-year interim period. Although the draft PATH bill does not appear to change the FHA Title I manufactured housing program, if this portion of the House bill ultimately advances, it will be necessary for the industry to advance appropriate language to – again — ensure the both FHA manufactured housing programs are retained and, in fact, expanded.