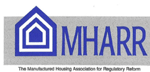 Washington, D.C., May 7, 2012 – The Manufactured Housing Association for Regulatory Reform (MHARR) reports that according to official statistics compiled on behalf of the U.S. Department of Housing and Urban Development (HUD), the manufactured housing industry rebound that began during the second half of 2011 has now continued into March 2012, posting its eighth production increase in as many months. Just-released statistics show that in March 2012, HUD Code manufacturers produced 4,671 homes, up from the 4,035 HUD Code homes produced during March 2011, representing a corresponding-month increase of 15.7%. Cumulative 2012 industry production now totals 12,799 homes for the first quarter, up 31.6% from cumulative industry production of 9,723 homes during the first quarter of 2011. By contrast, 2011 first quarter production was 13% below the 9,723 HUD Code homes produced during the first quarter of 2010.
The industry rebound, beginning in August 2011, has seen corresponding monthly production increases of 5.9% in August 2011, 14.1% in September 2011, 40.7% in October 2011, 54% in November 2011, 38% in December 2011, 42.5% in January 2012, 43.3% in February 2012 and now 15.7% in March 2012.
A further analysis of the official industry statistics offers a glimpse of the states that have had the highest demand for new manufactured homes since August 2011. According to that data, the top ten shipment states for the period of August 2011 to March 2012, with cumulative shipment totals are:
1. Texas ——————————- 6,701 homes
2. Louisiana ————————— 2,787 homes
3. Alabama —————————- 1,958 homes
4. North Carolina ———————- 1,686 homes
5. North Dakota ———————– 1,652 homes
6. Florida —————————— 1,645 homes
7. Kentucky —————————-1,374 homes
8. Mississippi ————————– 1,289 homes
9. Maryland —————————-1,172 homes
10. Oklahoma ————————- 1,049 homes
With industry production continuing to trend upward, it is essential that the interests of the industry and American consumers of affordable housing be advanced, protected and defended in Washington, D.C. against unnecessary and unnecessarily costly mandates, requirements and restrictions affecting either production or the consumer financing of manufactured home purchases. As MHARR has – and continues – to maintain, this fragile recovery makes it even more important that the industry remain vigilant, and guard against complacency, regarding the full and proper implementation of the good laws it has regarding both production and financing, as Congress intended all along.
The Manufactured Housing Association for Regulatory Reform is a Washington, D.C.-based national trade association representing the views and interests of producers of federally-regulated manufactured housing.