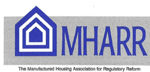 Washington, D.C., March 6, 2012 – The Manufactured Housing Association for Regulatory Reform (MHARR) reports that according to official statistics compiled on behalf of the U.S. Department of Housing and Urban Development (HUD), the manufactured housing industry rebound evident during the second half of 2011 has continued into the first month of 2012, posting its sixth production increase in as many months. Just-released statistics show that in January 2012, HUD Code manufacturers produced 3,983 homes, up from the 2,796 HUD Code homes produced in January 2011, representing a corresponding-month increase of 42.5%.
This upswing, which began in August 2011, has seen corresponding monthly production increases amounting to 5.9% in August 2011, 14.1 % in September 2011, 40.7% in October 2011, 54% in November 2011, 38% in December 2011 and now 42.5% in January 2012. During this six-month period (August 2011 – January 2012), cumulative industry production has totaled 28,773 homes, up from the 22,172 homes produced during the corresponding period one year ago (August 2010 – January 2011), representing an increase of 30%.
This sustained rebound from two consecutive years of production levels at or near historic lows corresponds with incremental improvement in the broader economy and consumer confidence, as well as increasing demand for HUD Code homes for use as emergency housing and for workers involved in the development of energy resources in the Dakotas and other areas.
MHARR has consistently maintained that after an extended period of economic decline, high unemployment and damaging fallout from the mortgage crisis and subprime debacle, affordable manufactured homes, at the outset of an economic recovery, would be positioned to lead the broader market as the housing of choice for Americans and could thrive going forward if the good laws enacted by Congress over the past decade – designed to ensure the parity of manufactured homes with other types of housing and end discrimination against the industry and its home buyers based on "perceptions" and not facts – were fully and properly implemented by regulators in Washington, D.C.
It would thus appear that MHARR's persistence in the nation's capital, pressing for full parity for manufactured housing and for regulators to be held accountable for the proper implementation of these laws, is beginning to have some impact, through increased activity involving the Governmental Accountability Office (GAO). the Government National Mortgage Association (GNMA) and especially Congress, where long-overdue oversight regarding all these impediments and their impact on the industry has begun in earnest and should continue.
The Manufactured Housing Association for Regulatory Reform is a Washington. D.C. based national trade association representing the views and interests of producers of federally regulated manufactured housing.