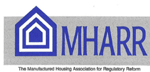 Washington, D.C., January 5, 2012 – The Manufactured Housing Association for Regulatory Reform (MHARR) reports that according to official statistics compiled on behalf of the U.S. Department of Housing and Urban Development (HUD), the manufactured housing rebound evident in recent months continued and strengthened during November 2011, posting its fourth increase in 12 months. Just-released statistics show that in November 2011, HUD Code manufacturers produced 5,332 homes, up from the 3,459 HUD Code homes produced in November 2010, representing a corresponding-month increase of 54%. This increase brings 2011 cumulative industry production, through the end of November, to 47,820 homes – now 1% higher than corresponding industry production of 47,301 homes over the same period in 2010.
This continuing production rebound is consistent with MHARR's conviction that a manufactured housing industry recovery would begin with its lower-priced, most affordable homes. This view is – and has been – based on several inter-related factors, the most important of which are: (1) a large and still growing inventory of higher-priced homes resulting from foreclosures; (2) an increasing number of available sites within existing manufactured home communities and developments; (3) a gradual expansion of domestic energy production sites and facilities, particularly in the upper Midwest and West; but, most importantly (4) a continuing sluggish economy with relatively high unemployment and under-employment, as well as significantly more restrictive requirements for consumers to qualify for higher-priced home loans. All of these factors are now working in tandem to drive increasing demand for the type of affordable, flexible housing options that manufactured housing can uniquely provide.
Such expanding demand, however, highlights the urgent need for additional sources of both private and public consumer financing for manufactured homes, especially personal property (chattel) financing for less expensive manufactured homes, which provides the most affordable path to home ownership for lower and moderate-income consumers. Without more sources of such financing and genuine competition in the manufactured housing finance market,
A recovery and even a further expansion to significantly higher production levels may difficult to sustain … which should be unacceptable to industry members. Therefore, the industry, but most importantly its post-production sector (i.e., retailers, communities, finance companies, etc.), which deals directly with consumer financing, should be focusing on opening the door for new and additional sources of personal property financing, both private and through Federal Housing Administration (FHA) Title I-insured loans.
In 2008, MHARR took the lead in pressing for the inclusion of the "Duty to Serve Underserved Markets" (DTS) in the Housing and Economic Recovery Act of 2008 — as a means of expanding the availability of private manufactured home financing — and has worked since then to have DTS implemented by the Federal Housing Finance Agency (FHFA). Although FHFA, in the current economic and political climate has been able to avoid final action on DTS (even proposing to exclude chattel financing from a final DTS rule), and although the two Government Sponsored Enterprises (GSEs) may not survive in their current form, it is important that DTS apply to – and be fully implemented – either by the GSEs or their successor entities.
At the same time, MHARR has expanded its efforts to increase the pool of FHA Title I- insured loan originators by directly meeting with top Government National Mortgage Association (GNMA) officials and pressing them to address restrictive GNMA securitization requirements that have effectively prevented entry into the FHA Title I-insured personal property loan market by other than one or two lenders. Aside from expediting an industry recovery, the industry and consumers, quite simply, cannot and should not tolerate the domination of this important segment of the consumer financing market by only one or two companies. Thus, at a December 14, 2011 meeting, MHARR was able to secure the commitment of those officials to re-examine the GNMA criteria and their de facto suppression of competition and loan originations within the FHA Title I-insured loan program, where originations have been stagnant at historically low levels. Having opened this window of opportunity, it is now crucial that the industry's finance companies, retailers and communities follow-up by providing GNMA the information needed to support a relaxation of those criteria.
Expanding the availability of manufactured home financing should be a top priority for the industry, but more so for its post-production sector. An MHARR analysis of this important issue will be published in the February 2012 "MHARR Viewpoint" column in The Journal of Manufactured Housing.
The Manufactured Housing Association for Regulatory Reform is a Washington, D.C.-based national trade association representing the views and interests of producers of federally-regulated manufactured housing.