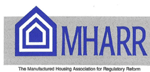 MHARR, on September 9, 2013, filed administrative comments in connection with two formaldehyde-related rules proposed by the U.S. Environmental Protection Agency (EPA). A copy of these comments is attached. It is important that you and your technical executives review these comments, as the proposed EPA rules will have far-reaching effects on formaldehyde emissions as an aspect of the indoor air quality of manufactured homes.
The proposed rules, required by the 2010 Formaldehyde Standards for Composite Wood Products Act (Act), would establish: (1) nationwide formaldehyde emissions standards for composite wood products including hardwood plywood, medium-density fiberboard and particleboard based on limits previously adopted by the California Air Resources Board (CARB); and (2) a component fabricator-level third-party testing and certification system. As proposed, the standards would become effective one year after final publication in the Federal Register.
The Formaldehyde Standards for Wood Products Act was passed by Congress in response to multiple petitions filed with EPA in 2008 seeking federal adoption of the CARB formaldehyde standards. As MHARR pointed out at the time, the CARB formaldehyde standards – then applicable only in the state of California – enacted the most restrictive set of formaldehyde emissions standards imposed on a mass basis in the United States, with correspondingly higher compliance costs for composite wood products used in all types of housing.
The Act, therefore, is unusual in that it statutorily prescribes not only the composite wood products to be covered, but also the emissions limit for each product (based on CARB), making the EPA rulemaking somewhat anti-climactic. But, the proposed EPA standards are important for manufactured housing because the Act specifically directs HUD to revise its own manufactured housing standards to "reflect" the final EPA standards.
Given the fact that the real-world impact of the EPA standards will be more restrictive standards and higher costs for composite wood products used in all homes, both the industry and the manufactured housing consumers bearing those higher costs will need relief, and that relief should come from the repeal of the existing HUD standards, and the red formaldehyde notice that has been a sore point with the industry for decades, concurrent with the effective date of the EPA standards. Very simply, if all composite wood products supplied to the home-building industry in the future will comply with the tougher EPA formaldehyde standards, there is no need for the costs associated with the HUD standards enforced at the home manufacturer level or the discriminatory formaldehyde "health" notice.
MHARR has already provided a copy of these comments to officials of the manufactured housing program at HUD and will file further comments, if necessary, as part of the HUD rulemaking (including MHCC review) pertaining to the EPA-proposed standards.
This entire matter will be addressed in greater detail at MHARR's Fall 2013 Board of Directors meeting.