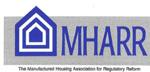 MHARR Comments on Proposed Accessibility Guidelines
Attached for your review and information is a copy of comments filed by MHARR on August 16, 2012 in connection with accessibility guidelines for emergency transportable housing (ETH) published by the U.S. Architectural and Transportation Compliance Board (Access Board) in a June 18, 2012 Notice of Proposed Rulemaking.
The proposed guidelines, as published, would apply only to temporary transportable emergency homes, including HUD Code manufactured homes, purchased by government agencies such as the Federal Emergency Management Agency (FEMA). For the most part, the guidelines follow the consensus recommendations of a federal advisory committee convened by the Access Board in 2007, which included MHARR as a voting member.
Although MHARR has no objection to the proposed guidelines as published, it filed comments in this proceeding in order to stress two important points.
First, MHARR agrees with the decision of the Access Board not to include proposed "indoor environmental quality" (IEQ) guidelines as part of the proposed rule. Although the Access Board advisory committee discussed that issue, it never reached a consensus position due, in part, to MHARR objections.
Second, and more importantly, the comments stress MHARR's consistent and long-standing position that any such guidelines for public sector purchases should not be applied to private sector transactions, where their high cost would have an extremely negative market impact that could exclude significant numbers of lower-income purchasers from the housing market altogether. This objection is important not because of any expected action by the Access Board – which lacks jurisdiction over private-sector home purchases – but as a warning against any effort by special interests to advance accessibility standards before the Manufactured Housing Consensus Committee (MHCC) which, following the restoration of HUD funding, is expected to hold an in-person meeting before the end of the year, most likely in October.
MHARR will continue to monitor activity regarding these guidelines and will update you as developments warrant.
Manufactured Housing Association for Regulatory Reform