PRODUCTION INCREASE AT SEVEN MONTHS NOW A TREND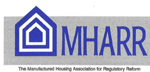 Washington, D.C., April 4, 2012 – The Manufactured Housing Association for Regulatory Reform (MHARR) reports that according to official statistics compiled on behalf of the U.S. Department of Housing and Urban Development (HUD), the manufactured housing industry rebound evident during the second half of 2011 has continued into February 2012, posting its seventh production increase in as many months. Just-released statistics show that in February 2012, HUD Code manufacturers produced 4,145 homes, up from the 2,892 HUD Code homes produced during February 2011, representing a corresponding-month increase of 43.3%. Cumulative 2012 industry production now totals 8,128 homes, up 42.9% from 2011 cumulative industry production of 5,688 homes over the same period.
The industry upswing which began in August 2011 — and which, according to industry observers, can now be cautiously viewed as a trend — has seen corresponding monthly production increases of 5.9% in August 2011, 14.1% in September 2011, 40.7% in October 2011, 54% in November 2011, 38% in December 2011, 42.5% in January 2012 and now 43.3% in February 2012. And with production increases exceeding 40% during the industry's traditional off-season production period, these figures could, with due caution, signal continuing robust growth during the industry's traditional production season.
A further analysis of the official industry statistics offers a glimpse of the states that have had the highest demand for new manufactured homes since the industry rebound began in August 2011. According to that data, the top ten shipment states for the period of August 2011 to February 2012, with cumulative shipment totals are:
1. Texas —————————– 5,771 homes
2. Louisiana ————————– 2,460 homes
3. Alabama —————————1,774 homes
4. North Dakota ———————-1,504 homes
5. North Carolina ———————1,467 homes
6. Florida —————————–1,415 homes
7. Kentucky ————————–1,170 homes
8. Maryland ————————–1,164 homes
9. Mississippi ————————-1,125 homes
10. Pennsylvania ———————–859 homes
With the gradual turn-around of the industry from the deepest and most prolonged downturn in its history, MHARR continues to monitor and caution government regulators at all levels — affecting production, financing, placement and other matters – to honor, comply with and fully implement the industry's existing good laws in order to maintain this fragile new trend, assure the survival of the industry and, even more importantly, provide new and expanded homeownership opportunities for Americans who urgently need affordable housing during difficult economic times.
The Manufactured Housing Association for Regulatory Reform is a Washington, D.C.-based national trade association representing the views and interests of producers of federally-regulated manufactured housing.