The Louisville Manufactured Housing Show for 2012 is now in the history books. Hats off to Dennis Hill and the Show Ways team, Show Chairman Ron Thomas Sr., the Midwest Manufactured Housing Federation (MMHF) executive directors, our speakers, panelists and each company that helped make this show a success. An exhibitor I spoke with summed up the achievements by saying: "Wednesday was every bit as strong or better for business as the Tunica Show has been." That says a lot. An attendee summarized the value they obtained, "We've attended every one of the seminars and speakers, and it has all been great."
MHI Chairman and Cavco/Fleetwood CEO Joe Stegmayer addresses
an SRO (standing room only) crowd of industry professionals at the
2012 Lousville Manufactured Housing Show.
Ron Thomas Sr. and Tim DeWitt introduced Joe Stegmayer's standing room attended address. Ron Thomas used a phrase that resonated with MMHF execs and myself. Paraphrasing slightly: "We have to stop looking back. We've been through an economic upheaval. We have established a new base line, and we have to measure our success against this new base line, not using a base line from the past."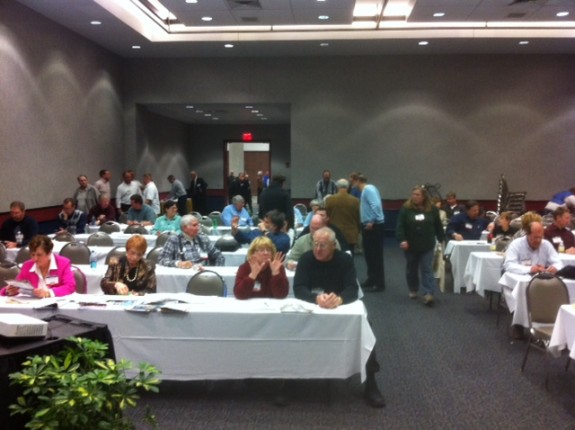 Dozens of manufactured home land lease community professionals
pouring into the seminar room to hear Andrew Peters CEO of
First Guarantee Mortgage Corporation and Tony Kovach
introduce a pilot project for financing that will mimic
land/home rates and terms in MHCs.
When we think in terms of the current realities – the new current base line – we can see that we are now on the path back up.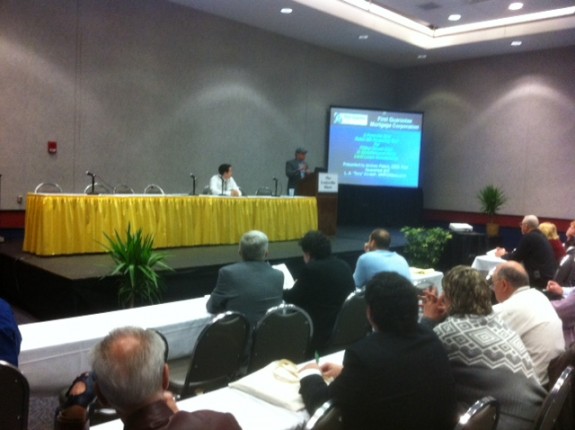 Andrew Peters, CEO of First Guarantee Mortgage Corporation (FGMC)
at the yellow draped table watches as Tony Kovach addresses
land lease community owners and executives about the
non-recourse MH financing pilot project that will mimic
land home rates and terms in select MHCs.
Attendance was up in terms of attendees and total attendance. 1018 MH retailers, community owner/operators, builder/developers, installers and suppliers came though the doors. 1506 total were at the Show, when you include exhibitors and their teams. 27 homes were on display (35% more than 2011), along with some 80 exhibitors. I spoke with a number of leaders from a manufacturer that has not come in recent years. They indicated the show was strong for them, that they were very pleased with it. Others told me similarly. Ron Thomas told me a number of companies have already said they will be back in 2013 and at least one manufacturer that did not attend this year is planning to come next year.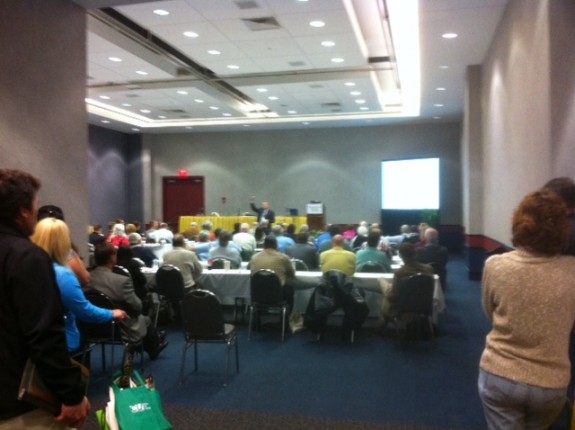 Chad Carr addresses another SRO crowd of industry professionals

at the 2012 Louisville Manufactured Housing Show's

profit and business building seminar series.
"Louisville is back."
To be sure, it isn't the same show as the go-go 90s. But this is where Ron Thomas' wise statement comes into play. We have a new base line. We build from where we are, so that we can move in the direction we want to go. Which is up!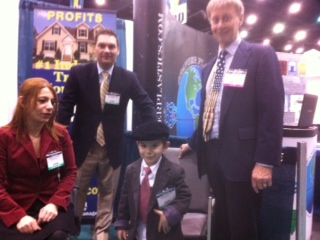 The youngest exhibitor at the Show was Tamas
(pronounced tah-mash) Kovach, right front.
Soheyla Kovach, Jeff Templeton and Matthew Silver
The above isn't to say that all was perfect at Louisville.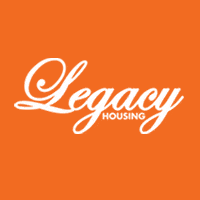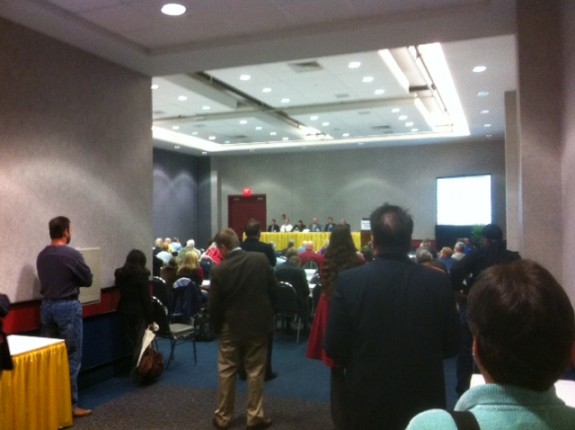 Another SRO crowd of MH Community and Retail professionals listen

to the lenders finance forum, moderated by Dick Ernst.

7 lenders described their finance products and services,

including new programs unveiled at Louisville.
Of course there were pluses and minuses too. After great weather on Monday and Tuesday, with highs in the 50s, we had rain all day Wednesday. The rain didn't keep almost as many people coming through the doors the first day as arrived for all of last year! That said, Thursday around 1 PM, weather reports and light snow fall sent many packing and. I doubt kept many from coming. That dampened total attendance for the day.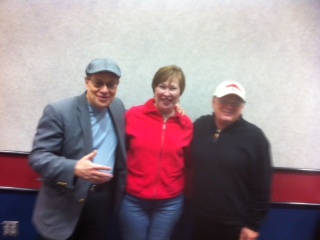 Tony Kovach pointing to the behind the scenes stars of the Show,

Michelle Middleton and Dennis Hill from Show Ways.

This photo taken 1.10.2012, the day before the Show opened.
Living west of Chicagoland, I was not quite sure why light snow would keep some from coming or send other people packing. Snowfall in Louisville may have hit 1" total through Friday around 1 PM, and the streets were just fine. The road home had maybe half a dozen vehicles in the ditches, but the roads were great with one very brief patchy exception. When I look out the window here on Saturday morning , there might be 3" on the ground. The point is day two attendance was not what day one was. Still, the overall result was very good.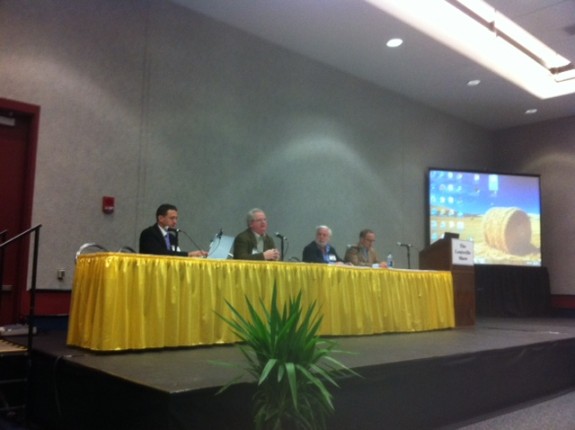 James Cook, Creighton Weber, Eddie Hicks and Gerry DiMarco address

MH Community owner/operators in a well attended finance forum

focused on RE commercial lending for MHCs. Snowfall slowed

attendance at the last 2 seminars that followed this session,

which all drew positive praise from attendees.
On a personal/professional note, our book sales were brisk! When I was in the booth we had industry pros that bought books and asked to have their books signed. My sincere thanks to all who came by the booth, had kind words about MHProNews.com, our presentations and who purchased a copy of the Manufactured Housing Revolution.
I want to thank my team for all their hard word, and recognize the speakers and moderators and all who pulled together to work so hard to make the show a success. You can see videos of the show and some stills linked here too.
We expect to share more post show reports and feedback in the days ahead. Again, hats off to all who attended and made this show a reality!
Tulsa and the 2012 Great Southwest Home Show is next up! My team and I hope to see you there too. ##
post by
L. A. "Tony" Kovach, MHM
www.MHProNews.com
www.MHMarketingSalesManagement.com or www.MHMSM.com
Innovation – Information – Inspiration for Industry Professionals
Office – 815-270-0500

latonyk@gmail.com or tony@mhmsm.com
http://www.linkedin.com/in/latonykovach