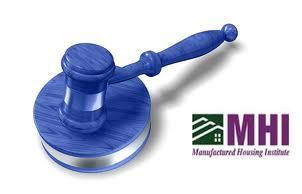 The Manufactured Housing Institute (MHI) is in the process of updating their bylaws, which was last done circa 2007, and led to controversy over proposed changes. The issue revolves in part around state association executives who seek to have a strong voice in MHI's legislative and other agendas. MHI CEO Dick Jennison was contacted about the topic for comment. Jennison's reply was: "…it would be inappropriate for me at this stage to officially comment while the bylaws changes are "pending" before the MHI Board for its consideration."
It should be noted that bylaws are a matter of any association's governance, and as such, are normally discussed and decided by board members, which makes Jennison's response to our inquiry understandable.
State association executives were also contacted for comment, a number of whom shared thoughts about the topic off the record and copies of list-serve emails were provided to us about the controversy. From the state perspective, a number of executive directors feel their states deserve a strong voice at MHI, as their work is often critical in grass roots efforts. While some state associations threatened a possible walk out, a source close to the issues tells us that posture was walked back the next day. It should be noted that some execs clearly took a pro-MHI stand on the bylaws topic.
Reportedly a pair of non-state association parties have attempted to stir up the bylaws issue for some weeks.
An informed source close to MHI and the associations in question tells MHProNews that the offending language change in the bylaws was offered to be struck shortly after the issue arose in late February, in an effort to settle the issue between MHI and the state executives. With "bruises" evident in the respective camps, a private meeting was scheduled to take place at the upcoming Tunica Manufactured Housing Show to bring the various parties together for a resolution.
As one informed source stated, with similar comments from others to MHProNews, "I hope this gets resolved soon, as we certainly have bigger issues facing our industry than the MHI bylaws."
The good news amidst this bylaws controversy is that it seems that progress is still being made in lining up bi-paritsan support for MHI's federal legislative agenda. Our sources tell us that the plan is to file bills with bi-partisan support in both the House and the Senate at the same time, which is expected to take place "soon," likely in the second quarter of 2013. That progress suggests that the parties nationally and locally are still working together in a professional manner. ##
(Graphic Credit: WikiCommons and MHI Logo)