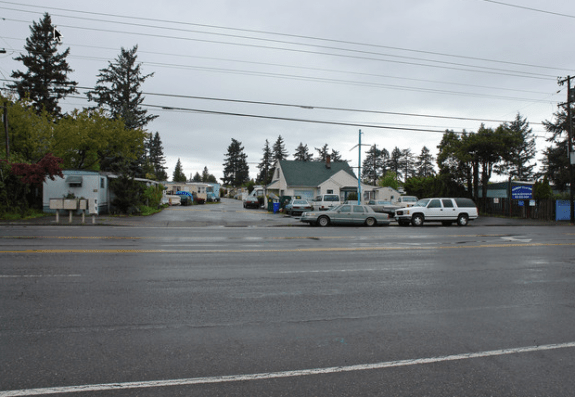 Some manufactured home community residents and advocates in Oregon feel there's a disconnect when it comes to enforcement of the law.
"There are more than 1,000 manufactured home/mobile home communities in Oregon," says Rita Loberger, a volunteer resident advocate for the Manufactured Housing/Oregon State Tenants Association.
"Right now, it's a no man's land with managers and owners writing leases, policies and contracts that might violate the state laws."
Per the Portland Tribune, Oregon lacks an agency to enforce those laws, and so the only legal recourse residents may feel they have is to file a lawsuit.
For Jamie Willey, a resident at the Rainbow Village Mobile Home Park in East Portland, she claims that she's been in that no man's land for over five years.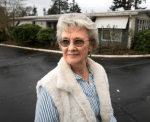 "Management has done nothing to prevent widespread fire and electrical hazards, an illegal restaurant at one of the mobile homes [sic], and overflowing trash at a nearby dumpster that causes a stench during the summer and provides food for rats," said Wiley.
Loberger says that she has helped negotiate with landlords over bills passed by state lawmakers, but those laws often are ignored by community managers.
"When these laws are voted in, they're on paper and that's it."
Loberger says that earlier this year, owners of the Oak Leaf and Lostinda Woods communities in Portland ignored a state law requiring them to notify residents before putting their properties on the market for possible redevelopment. The law was designed to give residents a chance to collectively buy the land under their homes and avert eviction.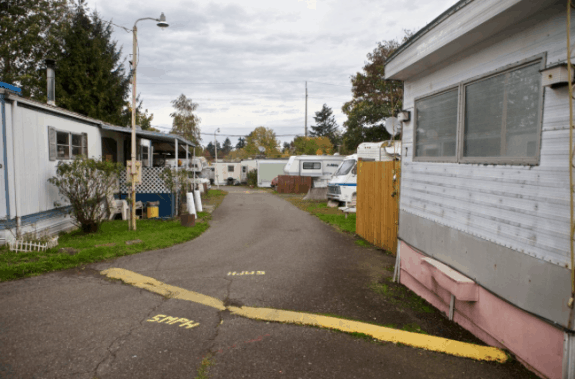 "Mobile home and manufactured home owners often are afraid to complain or file lawsuits against their park [sic] owners, for fear of being evicted," said Loberger.
Loberger served on Oregon's manufactured housing landlord/resident coalition, which was formed in 1995 to forge consensus on bills before submitting them to the state Legislature. That coalition fell apart in October, allegedly when landlords reportedly adopted a tougher stance, including refusing to discuss a way to enforce laws the coalition had spawned over the past 21 years.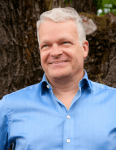 The Community and Industry Perspective
As if often the case, there are two – or more – sides to every story, including this one.
"We see enforcement as something like with the Attorney General's office and oppose that idea," said Chuck Carpenter, executive director of Manufacturing Housing Communities of Oregon.
The majority of manufactured home community residents are satisfied with their communities.  Community owner are often proactive in keeping a harmonious relationship.
There are times when a vocal minority can turn a minor or non-issue into a topic that suddenly makes local news.  Because the media may be uninformed about the responsibilities of residents, often community owners are made to look like 'the bad guys,' when in fact they often have done exactly what they commit to in the lease-terms with their home owners and residents.
Darby Garrett, one of the owners of Rainbow Villa, believes this is the case with Jamie Wiley.
"We had the city come out, and there were no rats at all aside from Willey's unit," said Garrett.
"The residents own their own homes, so they take care of it themselves. I visit the complex regularly and instruct residents to make sure they put lids on the trash cans."
Garrett also addressed trash pickup and additions to homes.
"I have a guy that picks the trash up every day, we do police it, trust me," says Garrett.
Garrett was referring to how they as the community manager do their part, but residents commit to the property's guidelines for living, as their part of the ground-lease.
"The string of additions built too close to neighboring units is residents' responsibility. The residents have committed those violations, it isn't us."
It takes both residents and management working together to keep a property clean, safe and appealing.
City, County, Bureaus Step In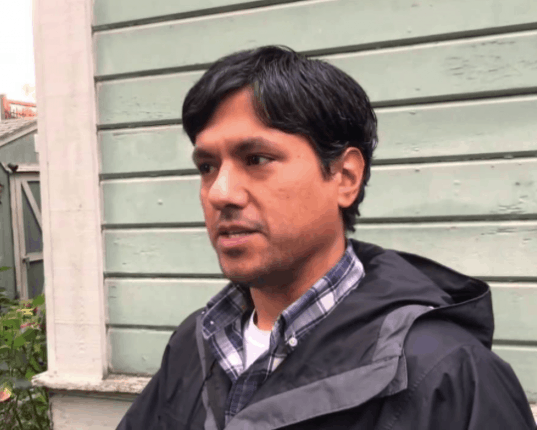 Chris Roberts, a Multnomah County public health vector specialist, told the Tribune that he's visited Rainbow Village four times since 2008, all in response to Willey's complaints. On his third visit in 2013, he inspected the entire complex.
On each visit, Roberts says he saw evidence of rats infesting Willey's home, but nowhere else.
"If rats were feeding on garbage at the dumpster or elsewhere, they would have left telltale signs," said Roberts. "We didn't find any of that evidence. It was strictly under (Willey's) unit."
Roberts says that he suspects rats are entering the home from a broken sewer line under her home. He suggested that she hire a plumber to investigate and estimated it would cost $100 to $250.
"It's the owner's responsibility because I don't own the land under my home and I'm not responsible for the city sewer line," said Wiley.
According to Roberts, the county can't require the city or community owner to take action unless it has evidence the problem stems from the sewer before it reaches Willey's home site.
A review of Rainbow Villa by bureau housing inspector Megan Greenauer, BDS in October resulted in a six-page list of violations including fire, life and safety. Homes – which are routinely owned by their residents – in the community were found to have structural, plumbing and mechanical work done on buildings without permits.
Willey and Loberger said they are more satisfied with the recent intervention by the city bureau, though they say it took years of complaints.
"The violations haven't been resolved yet," said Mike Liefeld, Bureau of Development Services enforcement program manager. "But the bureau is working closely with the park [sic] management and their attorney."
Code Violations not by Management
According to Liefeld, none of the violations were directed against the Rainbow Villa's ownership.
"That's because the bureau did not find violations in common areas," said Liefeld.
The Portland Tribune stated that none of the violations were found in Jamie Willey's home.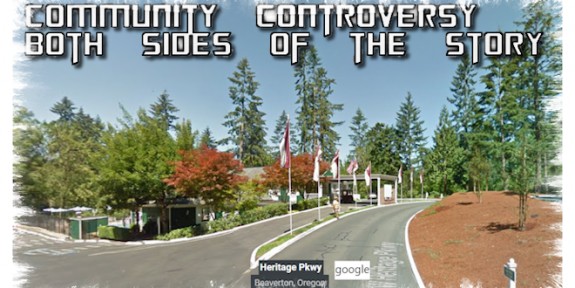 The Daily Business News, MHProNews, and MHLivingNews have covered similar stories, including the controversy at Cal-Am's Heritage Village manufactured home community in Beaverton, Oregon. That story is linked here. ##
(Image credits are as shown above.)

Submitted by RC Williams to the Daily Business News for MHProNews.