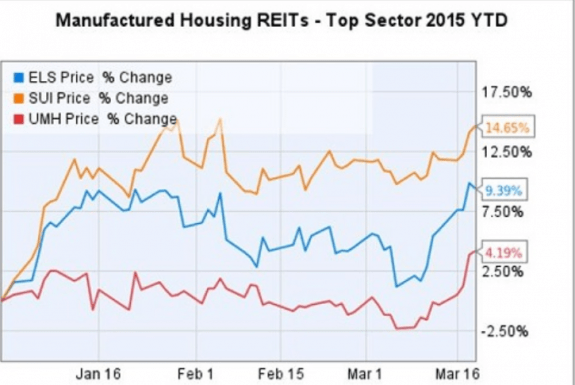 MHProNews has learned from Benzinga that 2015's best performing real estate investment trusts (REITs) are manufactured home community owners. Equity LifeStyle Properties, Inc. (ELS), Sun Communities, Inc.(SUI) and UMH Properties, Inc. (UMH) averaged a 9.4 percent growth rate this year through mid-March. Sun owns and operates 242 MH and RV communities comprised of 88,900 sites. ELS has over 370 communities with 143,000 homesites. UMH owns 89 communities containing 15,200 homesites.
The average age of people living in manufactured homes is 62. The bottom line is the 55-and-older population will grow by 26 percent from 2015 to 2030, and as 10,000 people will continue to reach age 65 daily until 2030, manufactured home REITs will continue to benefit from a growing economy and low interest rates.
The REITS make their money from the land the manufactured homes and recreational vehicles sit on, and the rents for the land tend to increase on a regular basis. Compared to conventional rental communities and other housing options, as a low-cost provider this sector is somewhat recession resistant. ##
(Graphic credit: Benzinga Y Charts)

   Article submitted by Matthew J. Silver to Daily Business News-MHProNews.