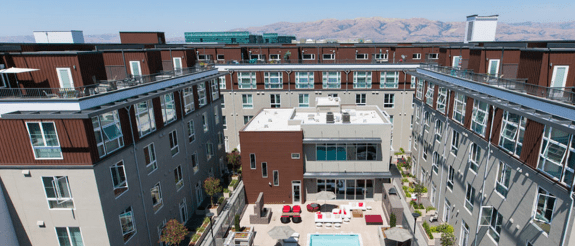 The Modular Building Institute's 2015 Awards of Distinction has honored Guerdon Modular Buildings as best-in-show for its Domain Apartments in San Jose, California. As multihousingnews informs MHProNews, the five-story, 444 unit luxury townhouse-style community includes nine-foot ceilings, granite countertops, stainless steel appliances, in home washers and dryers and high-quality finishes.
Located next to Cisco's campus, the complex is in the heart of Silicon Valley with access to light rail and freeway transportation, as well as nearby shopping, restaurants and a green space across the street.
"There is a lot of expertise and planning required to build a complex as large and sophisticated as Domain Apartments," Lad Dawson, Guerdon's CEO, told MHN. "We've put in the time, invested in the necessary technologies, and now we are seeing our hard work pay off. It is exciting to be in a position to push modular construction into the mainstream for large, complex and high-end builds. For us, this is validation that Guerdon's work is leading the industry in large-scale modular builds."
The modules were constructed at Guerdon's facility in Boise, Idaho. The only on-site work needed was exterior shear bracing and siding. ##
(Image credit: Equity Apartments–Domain Modular Apartments)

Article submitted by Matthew J. Silver to Daily Business News-MHProNews.