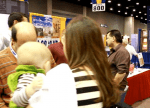 The early sellout of model home floor space for the 2014 Louisville Show is one of many signs that the trade show is on a strong track. Last year set a post 2010 record for attendance, making Louisville the best attended manufactured housing industry event.
Attendees MHProNews has spoken to often mirror what Bob and Janet McDonald said, "The Louisville show is a MUST see. I was very impressed at the last show and I can't wait to see the exhibitors at this year's Louisville show." Exhibit space is also almost sold out, for reasons highlighted by Ralph Metcalf from CuttingSystem who stated that "The Louisville Show is an excellent venue to introduce your products to the manufactured housing community. Manufacturers, dealers and set up personal all have a chance to view your offerings. We have been very successful at this show and highly recommend it.'"
Manufacturers have praised the show too. Gary Boerner from Norris Homes frankly observed: "Norris Homes made the decision to display at the 2012 Louisville Home show after being absent for several years. I can honestly say we will not be absent again. The dealer traffic was great and we were able to see and talk to prospects we might have never been exposed to.  It turned out to be a great decision on our part. We are looking forward to another successful show in 2014."
Wally Comer from Adventure Homes radiated praise for the Show, as well as for Ron Thomas Sr. – Show Chairman – and Dennis Hill – Show Coordinator – in his exclusive interview linked here.
Publisher and industry consultant L. A. 'Tony' Kovach said, "From 'mom and pops' to mid-sized operations along side the largest players in the industry flocked to Louisville last year. More pros seeking to grow are bound to come in 2014. The strategies to move from survive to thrive will be showcased in the free educational offerings. Want to grow? Be there!"
Pre-registration is open along with many more details found at the Louisville Show website. ##