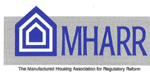 Legislative Approach to RV Definition Issue Reaches Critical Stage in Congress As previously reported by MHARR, the full Senate Appropriations Committee held a mark-up hearing on June 5, 2014 concerning the 2015 Transportation, Housing and Urban Development and Related Agencies (THUD) appropriations bill. Based on information from congressional sources, the bill (as modified by a Managers Amendment approved at the hearing), does not contain language to expand the existing RV exemption in the federal manufactured housing law.
Instead, it currently appears that Congress could be headed toward compromise report language from the Appropriations Committee urging HUD to address its definition of an RV via the Department's own "open, transparent and inclusive process" The full draft report statement, which MHARR has reviewed and agreed-to provides:
"It is the Committee's understanding that HUD is defining some recreational vehicles (RVs) as 'manufactured homes.' RVs play an important role in providing transportation and temporary living quarters for travel, recreation and camping. The RV industry supports more than 12,000 businesses with combined annual revenues of more than $37.5 billion. The Committee is concerned that advances in RV technology may require HUD to update its definition of what constitutes a recreational vehicle. The Committee encourages HUD to review its definition of what constitutes a recreational vehicle and consider updating the definition through an open, transparent and inclusive process. Manufactured housing plays an important role in providing housing to low- and moderate-income families. The Committee believes that any RV definition update should be construed in such a way that it does not negatively impact the manufactured housing industry."
While committee proceedings on the 2015 THUD appropriations bill in both houses of Congress have thus concluded without RV definition amendment language being included in the bills themselves, the hard work for the HUD Code industry now begins in earnest, as it appears that the RV industry is continuing an intensive campaign in Congress for action on its proposed definition amendment when these bills come to the floor in both the House and Senate. And it will be in this final stage of the appropriations process that MHARR and the handful of HUD Code state associations that have held the line against an RV appropriations amendment so far, will need the help and support of the entire industry.
There is no denying that RV industry concerns regarding "clarity" in distinguishing HUD Code homes from various types of RVs are real and should be addressed. The issue has never been whetherthese concerns should be considered. The issue, rather, since 1998 when the first exemption for "self-propelled" RVs was placed in the federal manufactured housing law by the RV industry through the appropriations process, is how these concerns are addressed – i.e., in what forum or venue and via which process.
MHARR has long maintained that the legitimate concerns of the RV industry should either be: (1) addressed as a regulatory matter through HUD's open and transparent regulatory process that provides for the full participation of all stakeholders and the thorough vetting of the complexities and potential consequences of such a change; or (2) if considered by Congress as a legislative matter, addressed by and through the relevant authorizing committees, with full hearings to consider the complexities and potential consequences of such a change and an opportunity for all affected stakeholders to participate — as contrasted with the appropriations process, which provides no such safeguards.
In recent weeks, a number of suggestions have been put forward on the substance of possible RV-related changes to the federal manufactured housing law or HUD regulations. In addition, MHARR is aware of a recent MHI communication in which it suggests a statutory RV amendment together with deletion of the current "permanent chassis" requirement for HUD Code homes as a quid pro quo.
Some or all of these suggestions contain good ideas that would be worth considering either through the HUD regulatory process or a proper legislative process (e.g., language to address the RV definition vis-à-vis the permanent chassis requirement) via the relevant authorizing committees with full substantive hearings. The immediate issue – and immediate task — for the HUD Code industry now, though, is making sure that the RV industry does not short-circuit the proper consideration of these complex issues and the rights of other stakeholders by including its current proposed RV definition language in a last-minute floor amendment to the HUD appropriations bills.
Therefore, the entire industry needs to provide its input to Congress on this issue, to let their representatives and Senators know that no RV definition changes should be considered through an amendment to the HUD appropriations bill, and that any congressional consideration of this matter should be via the relevant authorizing committees with full hearings and an opportunity for participation by affected stakeholders.