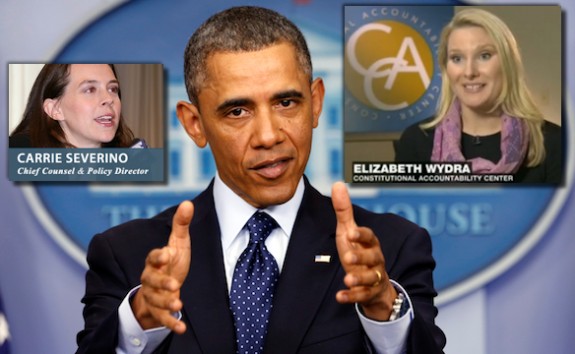 Elizabeth Wydra is the president of the Constitutional Accountability Center, which Wikipedia describes as a conservative judicial group.
Carrie Severino, is the chief counsel and policy director at the Judicial Crisis Network, which Wikipedia says an action center, think tank and public interest law firm that believes in an inherently progressive view of the Constitution.
With Wydra on the right, Severino on the left – both agree that President Obama's mark has been made on the powerful U.S. Appeals Courts – as the video with legal journalist Shannon Bream from FoxNews reports, with clips from both sides of the political aisle.
While the Supreme Court may decide 70 to 80 cases a year, the appeals courts rule on hundreds, many of which never make it to the highest court, which gives them tremendous power.
"When Obama took office, only three appellate courts had more Democrat-appointed judges than Republican-appointed judges. Now, nine of the 13 circuits do," states Bream.
So while a considerable level of discussion has taken place during the current election cycle about a potential for Hillary Clinton or Donald Trump to make 2, 3 or perhaps 4 Supreme Court picks, the impact of these appeals court judges is not to be overlooked.  Many business related cases are and will be decided by the courts.
So left and right agree on this; the judicial impact on the lives of professionals and all Americans is going to have a lasting impact, based upon the results of the November 8 elections. ##
(Image credits are as shown.)

(Editor's Note: Matthew Silver is taking some much needed and well-earned time off, and L. A. "Tony" Kovach will be helping fill the Daily Business News role in the interim.)
Article submitted by L. A. "Tony" Kovach, to Daily Business News for MHProNews.