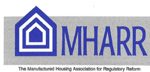 Re: Manufactured Housing Energy Standards
Dear Secretary Perry:
It has come to our attention that a lawsuit has been filed in the U.S. District Court for the District of Columbia (i.e., Sierra Club v. Perry, 1:17-cv-02700) seeking a judicial order to compel you, in your official capacity as Secretary of the Department of Energy (DOE), to issue a final rule to establish national "energy" standards for federally-regulated manufactured homes.
The Manufactured Housing Association for Regulatory Reform (MHARR), a national trade association representing the rights and interests of primarily smaller federally-regulated manufactured housing producers — and a unapologetic opponent of the underlying rulemaking in all its aspects – has previously written to you (and submitted comments in the underlying rulemaking proceeding) detailing the scandalous, lawless process used by DOE under the Obama Administration to establish and conduct a phony, contrived "negotiated rulemaking" on this matter, coordinated off-the-record between DOE officials, representatives of radical "green energy" groups and representatives and affiliates of the manufactured housing industry's largest corporate conglomerates.
MHARR, as a member of the DOE Manufactured Housing Working Group, cast the lone "no" vote against the baseless, contrived, unreasonably-costly "consensus" term sheet developed through that process, as a signal example of governmental overreach that would undermine the fundamental affordability of manufactured housing as enshrined in federal law. MHARR, for the same reasons, strenuously opposed the June 17, 2016 proposed manufactured housing "energy standards" rule resulting from that sham "negotiated rulemaking" process.
Subsequently, after the election of President Trump and the Administration's rejection of the Paris Climate "Accord" and the baseless Obama "Social Cost of Carbon" (SCC) construct – both of which served as policy and alleged "data" premises for the June 17, 2016 proposed rule — MHARR again called for DOE to reject and/or disavow that proposed rule in accordance with Executive Orders 13771 ("Reducing Regulation and Controlling Regulatory Costs") and 13777 ("Enforcing the Regulatory Reform Agenda"), and was encouraged to see the June 17, 2016 proposed rule listed as an "inactive" rulemaking in the Fall 2017 Semiannual Regulatory Agenda issued on December 14, 2017.
It is evident that in light of these actions, the Sierra Club and the other radical proponents of needless and needlessly costly energy regulation that will undermine the fundamental affordability of manufactured housing and result in purchase price increases that will exclude millions of lower and moderate-income American families (as determined by the National Association of Home Builders) from the ability to purchase what is today the nation's most affordable type of housing, are seeking instead to impose such mandates via a transparent invitation to unbridled judicial activism.
We strongly urge you and the Trump Administration to aggressively oppose this action through all available means.
In this connection, we note with utter dismay that the same Obama Administration holdover official (Ms. Kathleen Hogan) who oversaw and presided-over the scandalous manufactured housing energy standards "negotiated rulemaking" in the first place as Deputy Assistant Secretary for Energy Efficiency in the Office of Energy Efficiency and Renewable Energy (EERE), inexplicably remains in that position.
Given the foregoing, and given the fact that other EERE employees were directly involved in and connected with the illegitimate process that led to the June 17, 2016 proposed rule, we ask that: (1) Ms. Hogan, as an Obama Administration holdover, and all other DOE/EERE employees connected with both the sham "negotiated rulemaking" and development of the June 17, 2016 proposed rule, be required to recuse themselves from any involvement with the Sierra Club lawsuit, the consideration or defense of that lawsuit, or any DOE activity whatsoever connected with its resolution; and (2) that all such matters be referred within DOE to Trump Administration appointees and/or others selected by those appointees.
Given the extreme importance of this matter to the manufactured housing industry, to the smaller industry businesses that MHARR represents, and to American consumers of affordable housing, we will contact your office immediately to arrange a meeting with you to address this matter.
Thank you in advance for your assistance on this matter.
Sincerely,
Mark Weiss
President and CEO