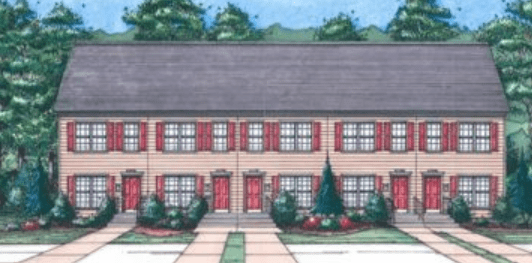 In the second project of Dauphin County's Land Bank Authority, four dilapidated townhouses will be demolished and replaced with five modular homes in Susquehanna Township, a suburb of Harrisburg, Pennsylvania, according to what pennlive tells MHProNews. Three health officers have been working on the four buildings over the years, citing absentee landlords and investigating complaints about them becoming dumpsites.
When the owners did not pay taxes, they went through tax sales and are scheduled for demolition Aug. 20, 2015. Dauphin County commissioners approved a $300,000 construction loan for the homes.
Gary Myers, Susquehanna Township Manager, thanked the commissioners for creating the Land Bank, the first in the state. "It's a quality of life issue. It's an economic issue. It wasn't until the commissioners created the Dauphin County Land Bank that we came up with innovative way of ridding a blighted area in Susquehanna Township," he said.
The Land Bank's goal is to prevent blight from spreading, return properties to the tax rolls and provide good, affordable housing. The five replacement townhomes, with an expected completion date of early 2016, will feature decks overlooking the Susquehanna River with selling prices of $129,000 to $129,000.
Twelve additional municipalities and five school districts in Dauphin County have all signed agreements with the Land Bank for future projects. The Land Bank's first project was to rehab an existing home.##
(Image credit: pennlive/Dauphin County rendering of new modular townhomes)

Article submitted by Matthew J. Silver to Daily Business News-MHProNews.