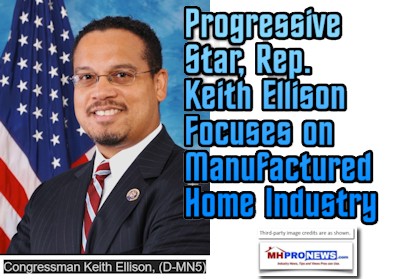 Congressman Keith Ellison (D-MN-5) is a rising star in the Democratic Party.
Ellison's not been without controversy among his peers.
While today's focus is his proposal that will impact manufactured home communities and other elements of the industry, some background on Representative Ellison and his interest in manufactured housing is warranted.
Rising Democratic Star, Keith Ellison
Ellison is viewed provocatively by many within manufactured housing industry circles. The reason?
It's because of his joint call with some fellow Democrats, who formally asked federal officials at the Consumer Financial Protection Bureau (CFPB), and the Department of Justice (DoJ) to release their findings to-date on their investigation of charges of racism, steering, and predatory lending by units of Berkshire Hathaway. See that related, exclusive Daily Business News report, linked here.
But Ellison's willingness to boldly push for his progressive, left-wing agenda were among the factors that landed him the vice-chairmanship of the influential Democratic National Committee (DNC).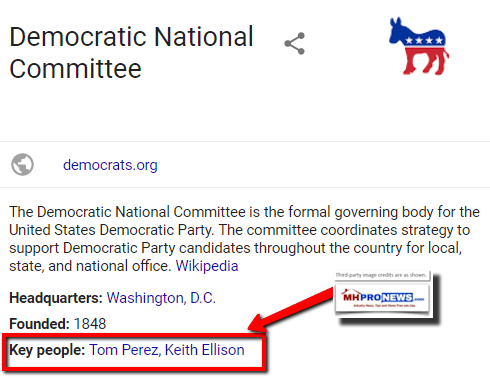 Beyond pushing to investigate what his Democratic colleague has referred to as the "near monopoly" of Berkshire Hathaway's units in manufactured housing, Ellison is making his presence felt in other ways in the manufactured home industry.


While voices in Arlington, Omaha, Knoxville, and their allies want to ignore or brush off Ellison's public moves, they do so at their own risk.
One need not look beyond the prior failure of the Manufactured Housing Institute (MHI) to pass their Preserving Access bill – and the reasons why it failed – in the last congressional session.  Disregarding Ellison and others he's aligned with, is to do so at the peril of the millions spent to date lobbying for their proposed changes to Dodd-Frank.
'Heads in the sand' won't make a painful truth go away.
Ellison vs. MHI backed Preserving Access
Ellison and Maxine Waters (D-CA) were the opposition leaders to the MHI backed Preserving Access to Manufactured Housing Act, which recently cleared the powerful Financial Services Committee, where Ellison is a member.
"HR 1699, the Preserving Access to Manufactured Housing Act, by a bipartisan vote of 42 to 18," stated NYHousing.
"Of the 60 members on the [Financial Services] Committee, only two members spoke out against the bill. Ranking Member Maxine Waters (D-CA) and Rep. Keith Ellison (D-MN) expressed concerns that the bill will remove consumer protections," the association's statement said.
However meritorious the HR 1699 bill may be, what's often missing in discussions elsewhere in the industry is that Waters and Ellison have already teed up their knockout punch, referenced above and once again, linked here.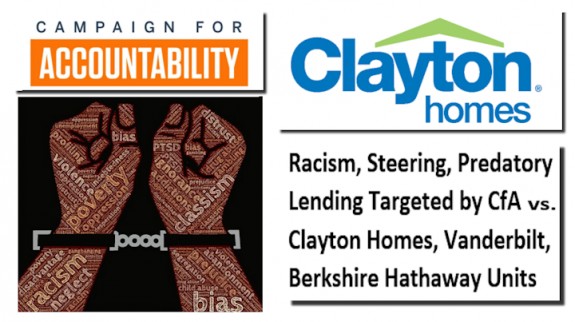 It's progressive political star Ellison who's hunting for allegations of racism, steering, and predatory lending.  That, D.C. insiders say, will be the Waters/Ellison rallying cry.
Surprisingly, MHI and Berkshire Hathaway firms contacted have pointedly declined MHProNews invitation publicly condemn racism. Why not respond publicly via the industry's most popular trade media, and denounce racism in a simple statement?
Expect Ellison, Waters and their allies to make that an issue in the mainstream media, per sources to the Daily Business News.
Against that context, this Daily Business News report now turns to Ellison's own manufactured home industry focused legislation.
Cong. Ellison's ShelterForce Op-Ed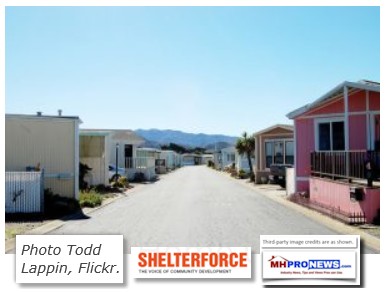 As the Daily Business News has previously reported at this link here, Ellison introduced a bill that has significant support among members of the manufactured home industry.
The Frank Adelmann Manufactured Housing Community Sustainability Act (H.R. 3296)
In support of that legislation, DNC Vice Chair Ellison penned an Op-Ed for ShelterForce, which reads today as the download – linked here – reflects.
Quoting from that column, Ellison begins with an impassioned plea.
"Frank Adelmann was bereft when he received an eviction notice from Lowry Grove mobile home park," Ellison stated. "At 59, he had no resources to move and could not afford another home. The day before the park was to close, Frank ended his life. He was one of ninety-five families who lost their homes. Kids, parents, veterans, and even seniors, some in their eighties, were evicted. Parents struggled, and mostly failed, to find a home they could afford in the same St. Anthony's school district. And dozens who thought Lowry Grove would be the last home they lived in, suddenly had nowhere to go."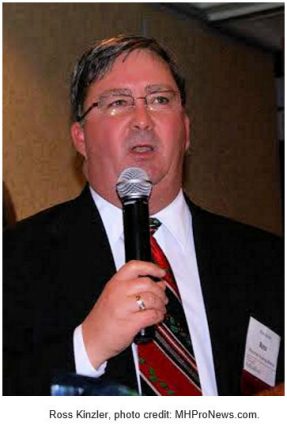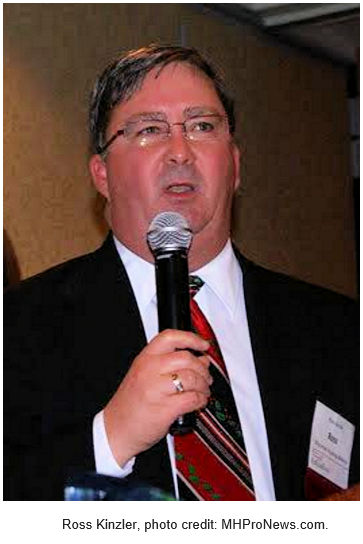 Regarding Ellison's op-ed, award winning industry veteran, Ross Kinzler told MHProNews that, "The congressman acknowledges the problem right off the bat then promotes "cures" that ignore it."
Brian Gallagher, Chief Operating and Financial Officer, of growing and respected Santefort Real Estate Group, LLC, took a more nuanced opening in his detailed reply to the Minnesota congressman.
After laying out their operation's credentials, Gallagher wrote, "We share your concerns to ensure that the MH industry continues to provide quality affordable housing to over 22 (not 17) million Americans, all of them generally unsubsidized by government programs."
Gallagher gives as an example of their manifest concern for their residents and prospective home owners.
"Our company endeavors to be an example of best practices in responding to resident needs every day, including our offering of a 5% fixed financing rate to "Neighborhood Heroes" – Vets, nurses, teachers, and police/fire personnel," Gallagher said in his letter to Ellison, that he then provided to MHProNews.
Ellison's Stance
"In Minnesota, ten mobile home communities have closed in the past twenty-five years, and no new ones have opened," Ellison stated. "This uncertainty affects nearly 3 million Americans who are residents in the nation's 50,000 [SIC] manufactured housing communities. While most of these people own their homes, they rent the land, which leaves them vulnerable to dramatic rent increases, arbitrary rules, and even eviction.


Notice: that the SIC was editorially added by MHProNews, because the likely closer estimate
for the number of communities is around 44,000.
This article will have an updated link on that controversial topic, by Monday.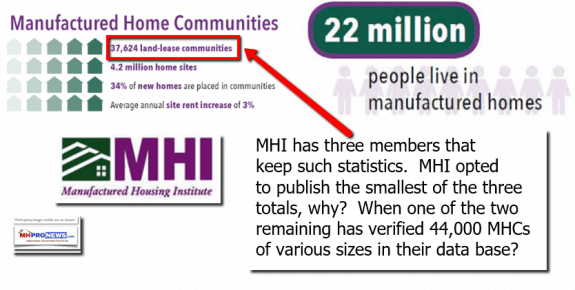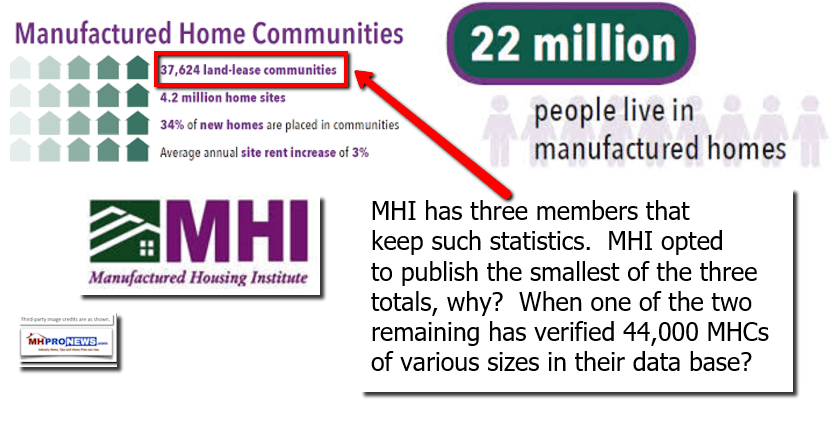 Ellison's point is that the problem is real, and he proposes to correct that through his H.R. 3296 legislation.
The Free Market Solution?
But Kinzler, who long lived in neighboring Wisconsin, believes Ellison's proposed solution misses some key points.
"Ten communities have closed in MN and no new ones built," Kinzler tells MHProNews, "What would the world look like if 25 to 100 new communities were built?  Supply and demand answers lots of questions."
Kinzler added, "His [Ellison's] "problems" are the creation of local government created shortages."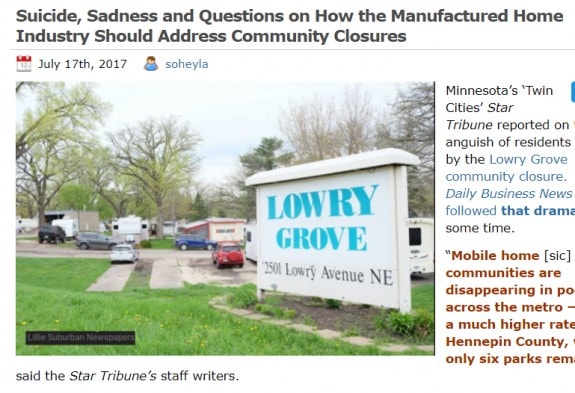 The Lasting, Painful Legacy of Magar Magar, and Lowry Grove?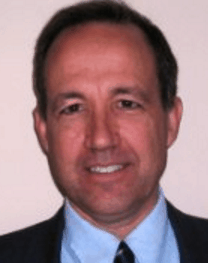 "We acknowledge that bad actors exist in our industry, as they do in all, but they do not tell the whole story," Gallagher's letter and attachment – linked here at a download – to Ellison said.
From experience, professionals like Gallagher and other industry professionals know the impact that stories like Magar Magar – spotlighted by NPR – or Lowry Grove have on public officials and millions of Americans.
It was precisely the Lowry Grove community's drama in Minnesota which sparked Ellison's bill.
Gallagher, Kinzler and others are far from alone in saying that issues of image, misunderstandings, and "bad actors" need to be addressed by the industry and its members.
That may explain why Gallagher took pains to spell out in his letter to Ellison the good that they strive to do in their operation, and that most industry members strive to do the same.
That 'there are good actors too' theme is that ROC USA President and CEO, Paul Bradley sounds often.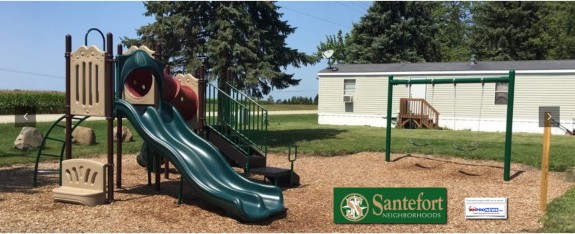 But there are other voices who share a different viewpoint, believing that bad news should be overlooked, or ignored.
For example, the Manufactured Housing Institute (MHI) President and CEO, Dick Jennison, told MHProNews in writing that those who responded to the PBS NewsHour – and by inference, similarly negative stories – "are either misguided or have a self-serving agenda."
Seriously? Don't industry members have the right to defend their profession's reputation?  The full context of Jennison's remark is in the screen capture, below.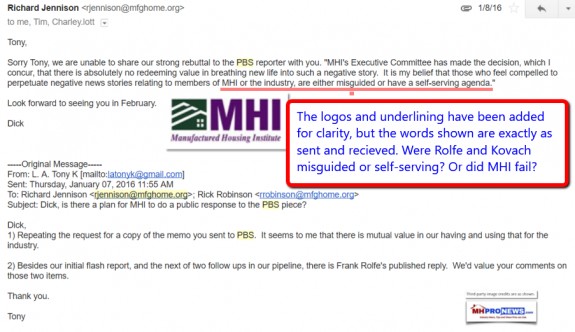 A related article to Jennison's message are shown at this link here.
Gallagher Stresses Objective, vs. Emotional Response to MHC Issues
"Any rental resident is subject to market and regulatory forces, as are the MHC operators. State laws generally govern rent increases, and very, very few, if any, MHC residents who are financially able to pay their rent "fall asleep wondering if they'll have a home in the morning." wrote Gallagher; the italicized part was a quote from Ellison's column, linked here.
"Ironically," Gallagher stated in his letter to Ellison, "as I trust you know, Lowry Grove appears to be on its way to become a modern MHC (see 10/14/17 Star Tribune article, attached).   Apparently, the town approved only 350 of the 700 units requested for the 15-acre site.  Time will tell how this ultimately turns out – but it is further support, in my opinion, for the proposition that "hard cases make bad law."
Gallagher draws towards a conclusion by noting that Ellison is mistaken in opposing Preserving Access.
"Finally, your column also mentioned your effort to oppose proposed legislation which would "exempt manufactured housing sales people from the CFPB licensing requirements'.  This proposal is intended to correct the misfit between the SAFE Act, designed for traditional single-family home/condo sales and financing, and the standard operating procedures of the manufactured housing industry, which, as you mention constitutes 50,000 communities housing 22 million residents," Gallagher said.
"The law does not relieve loan originators from compliance, or dilute borrower protections, but allows MH sales people the ability to discuss financing alternatives with applicants in the absence of brokers and third-party lender without fear of non-compliance with federal regulations.   This will facilitate transactions without sacrificing the protections of the CFPB," Gallagher noted.
Again, Ellison's full column is linked here, and Gallagher's response is linked here. "We Provide, You Decide." © ## (News, Analysis.)
Related: this video below debunks many of the stereotypes, through an interview with a now retired official who served at both the CFPB and HUD.

(Image credits are as shown above, and when provided by third parties, are shared under fair use guidelines.)

Submitted by Soheyla Kovach to the Daily Business News for MHProNews.com.
(Note: Soheyla Kovach is a co-founder of LifeStyle Factory Homes, LLC – the parent to MHProNews.com and MHLivingNews.com – and is a managing member.)