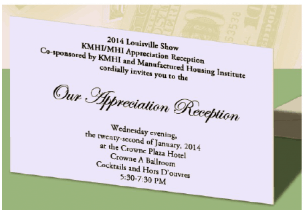 Pre-registrations for the 2014 Louisville Manufactured Housing Show are up over 50% over the same time frame as last year. So state the facts supplied by Show Ways Unlimited, who manage the show for the Midwest Manufactured Housing Federation (MMHF).
Show Chairman Ron Thomas, Sr. reports that in 2013, "Louisville in 2013 we had 1370 builder/developers, retailers, community and owners/operators, representing 573 different companies who attended."
If that 50% increase in registrations for the industry's largest event trend holds, that would mean that over 2,000 attendees would arrive in Louisville in 2014. Combined with exhibitors, it could yield a total attendance of over 3,000, compared to some 830 that go to the Manufactured Housing Institute's (MHI's) fine annual Congress and Expo in Las Vegas, Nevada.
"It is an interesting comparison, but frankly it's not exactly apples to apples." said L. A. "Tony" Kovach, industry veteran and point man for the online promotion for the Louisville Show.
"Louisville will have 48 new model homes on display." Kovach explained. "These decorated models will include manufactured homes and modular homes. MHC owner/operators will find Community Series Homes (CSH) on display. Retailers and builder/developers will see residential style and entry level multi-sectional and single section homes. MHI's annual Vegas event is terrific, I love to go there too. Both Louisville and MHI's Congress and Expo (C&E) have educational seminars and booths. MHI's C&E by contrast has more educational events. But having homes on display ads a very different dynamic to what happens in the climate controlled Kentucky Expo Center, where the all-indoor 2014 Louisville Show is held."
Speaking of MHI, Kovach added that the MHI staff – including their NCC division – will be very visible at Louisville in 2014. "Dick Jennison's and his colleagues will be co-hosting a mixer with the Kentucky Manufactured Housing Institute (KMHI). Betty Whittaker does a great job with that and combined with MHI's presence, it ought to be terrific."
The Manufactured Housing Association for Regulatory Reform (MHARR) members often have a private meeting during the Show.
"Norris Homes made the decision to display at the 2012 Louisville Home show after being absent for several years." said Gary Boerner. "I can honestly say we will not be absent again. The dealer traffic was great and we were able to see and talk to prospects we might have never been exposed to.  It turned out to be a great decision on our part. We are looking forward to another successful show in 2014."
Skyline Homes' Terry Decio indicated they will display 4 homes in the KEC's East Wing, next to the "Show Me the Money!" Seminar room. Enthusiasm is high, with sold out show space and the large boost in early registrations.
"The Louisville Manufactured Housing Show is an excellent showcase…With many networking opportunities and a well laid out exhibitor area, we look forward to the 2014 event as an opportunity to grow our manufactured housing business." said Sherrie Clevenger, NADAguides. ##
For more information,
please see Show Chairman, Ron Thomas Sr.'s report:
http://www.MHProNews.com/home/featured-articles/december-2013/138-general-manufactured-housing-industry-topics/6692-why-will-the-louisville-2014-show-you-the-money
And/Or go to:
http://www.LouisvilleShow.com for a complete list of free business building and finance seminars, networking events, exhibitors/manufacturers and KMHI-MHI mixer.
Interviews we've done that mention the Louisville Show include:
A Cup of Coffee with…Terry Decio
A Cup of Coffee with…Wally Comer
A Cup of Coffee with…Barry Noffsinger
A Cup of Coffee with…Dick Ernst