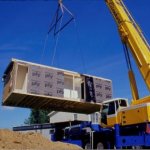 Following a story MHProNews last posted May 7, 2016 regarding the purported bankruptcy of Innovative Building Systems (IBS) and the subsequent closing of subsidiary Keiser Homes in Oxford, Maine, richmond reports from Rocky Mount, Virginia that IBS-owned Mod-U-Kraf and Excel Homes has also closed here, idling up to 219 workers, according to a filing with the state.
While the parent company intends to file Chapter 7, which usually means liquidation, Dan Hobbs, the general manager of operations for Excel Homes of VA said, "This facility here in Virginia has been profitable for the last five quarters — for each quarter in 2015, as well as the first quarter of 2016. The financial difficulties of Innovative Building Systems come from some factors outside of Virginia."
He said modular builder Champion Homes has expressed interest in buying the operation, posting upcoming job openings on its website for Rocky Mount as well as other IBS locations. Noting the parent company had been struggling since Nov., 2015, Hobbs said despite the evident closing of the facility, there is hope the factory will open once again building homes.
Meanwhile, local officials are meeting with state work force personnel to determine ways they might help the newly unemployed. ##
(Photo credit: Excel Homes siting a modular housing unit)

Article submitted by Matthew J. Silver to Daily Business News-MHProNews.