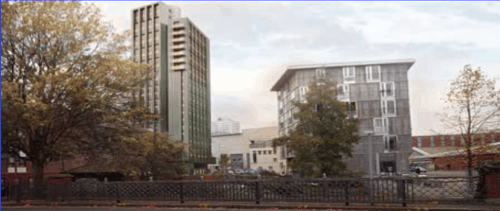 Wandsworth, a parish in West Yorkshire, England, is the site of an innovate affordable modular housing project.  It is scheduled to be completed in the summer of 2018.
Pocket, a London-based builder of "starter homes for city makers" is building the Mapleton Crescent development – a 26-story, 89-home tower built entirely from modular units.
According to wandsworthsw18, the development is the company's first in Wandsworth and the fourth utilizing the latest techniques in modular construction. Modular techniques see completed living spaces assembled in factories before being transported to sites and installed with cranes.
Pocket says the use of modular construction on the Wandsworth site will shave around six months off the tower's total build time.
"If we're able to scale up modular construction it has the potential to help solve London's housing crisis," said Pocket CEO Marc Vlessing.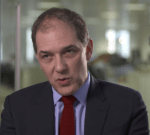 "Factory built modular homes are quicker to build than conventional buildings and result in significantly less disruption to local residents – with 60% fewer trucks coming to sites and 90% less waste."
The 26-story tower is Pocket's most ambitious project to date, and believed to be Europe's tallest tower using modular construction.
"I'm delighted Pocket's first Wandsworth-based housing development is now under way," said Wandsworth Council Leader Ravi Govindia. "These compact starter homes are a superb innovation and offer a new affordable housing option in the heart of Wandsworth town center.
I'm sure they will be a popular choice with local residents and we hope to see more schemes like this developed in the years ahead."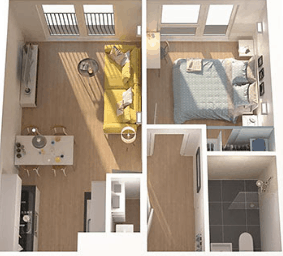 The modular units are being constructed at the Vision Modular Factory in Bedford, where all internal finishes, heating and plumbing installations, windows, external insulation and some external finishes are applied.
At a total cost of 40M Pounds ($49.7M USD), Mapleton Crescent will feature 53 affordable units to be sold outright at a discount of at least 20 percent to first time buyers, as well as 36 private units. The development will also feature a communal roof terrace on the 24th floor.
"The building's design is equally impressive, particularly the green ceramic cladding system which will be another first for Wandsworth. The emphasis on creating such high quality communal areas is another welcome innovation," said Govindia. ##
(Image Credits are as shown above.)

Submitted by RC Williams to the Daily Business News for MHProNews.