Hi Tony,
Great announcement, huh?  Here's my take and on-the-record comments:
First, understand that MH in land lease communities in NH is titled as real estate.  Hence, a lender makes a mortgage loan even if they're financing only the home. Such a mortgage does not include the land and does not disrupt the underlying commercial financing.
Second, Fannie Mae began approving ROCs in 2008 for home only mortgage financing.  Unfortunately, soon after, the PMI companies left the market (due to the recession and problems in the residential mortgage market broadly) so the program languished with just 10 ROCs and two local banks for nearly a decade.
Last week's announcement brings new life to this program.  The NHHFA will empower its originating lenders to originate residential mortgage loans for homes in ROCs and in turn sell those mortgages to Fannie Mae.  This will make long-term, fixed rate residential loans available on homes in ROCs.  With PMI, borrowers can pull down 95% LTV loans.  It's how the mortgage market works.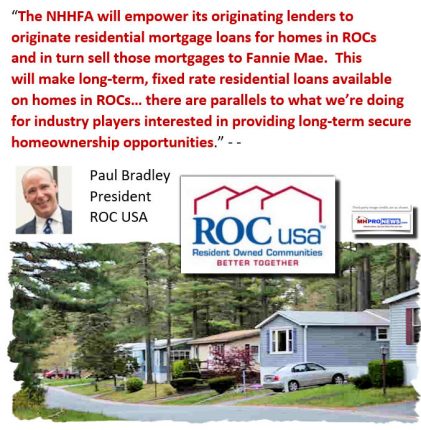 Now, two things:
This is the very construct that land lease owners could establish.  In fact, it's what Freddie Mac went to market with in the mid-2000s with a leasehold loan product that required titling as real estate.  Several states created an "opt in" real estate titling law for MH to take advantage of the program.  And, since, the Uniform Law Commission passed an opt in titling law for states to adopt.  It's all in waiting.
Residential mortgage loans will carry longer terms and lower interest rates than chattel even if the GSEs enter the chattel market with pilots next year.  That's because mortgage loans are going into existing and very large securities.  Chattel will have a different securitization path.
So, as I've said in several industry talks I've given on the subject, there are parallels to what we're doing for industry players interested in providing long-term secure homeownership opportunities.
Further, if a community owner is interested in selling and seeing their legacy continued with innovation like this, they should consider a sale to the residents.  We can help with that and enroll these communities in forward looking, transformative work like this HFA and Fannie Mae financing program.
We're building a national network on the principle of security for homeowners, and it's working!  Work for you?
Thanks.

Paul Bradley
President, ROC USA