I fully support President-elect Trump's appointment of Dr. Ben Carson as the Secretary of the Department of Housing and Urban Development.
This was a very smart choice. Dr. Carson has a unique and first-hand perspective having been born and raised in the inner city.
His life story, background and accomplishments will allow him to better understand the challenges and needs of HUD and the American people more than most.
As he has done for much of his life, he will continue to be an excellent public servant in this role.
I look forward to working with Dr. Carson to improve our housing policies and to help families prosper in the coming months and years.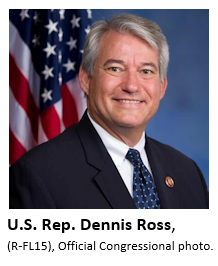 Dennis A. Ross
U.S. Congressional Representative (FL-15)