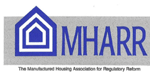 Washington, D.C., June 6, 2012 – The Manufactured Housing Association for Regulatory Reform (MHARR) reports that according to official statistics compiled on behalf of the U.S. Department of Housing and Urban Development (HUD), the manufactured housing industry production rebound which began during the second half of 2011 has now extended to nine consecutive months. Just-released statistics for April 2012 indicate that HUD Code manufacturers produced 4,630 homes, an increase of 17.4% from the 3,944 HUD Code homes produced during April 2011. Cumulative 2012 industry production now totals 17,429 homes, up 27.5% from cumulative industry production of 13,667 homes during the same period in 2011.
A further analysis of the official industry statistics shows that the top ten shipment states for the period of August 2011 to April 2012 — with cumulative shipment totals as indicated — are:
1. Texas ——————————– 7,498 homes
2. Louisiana ————————— 3,125 homes
3. Alabama —————————- 2,137 homes
4. North Dakota ———————– 1,902 homes
5. North Carolina ——————— 1,871 homes
6. Florida ——————————- 1,830 homes
7. Kentucky —————————- 1,581 homes
8. Mississippi ————————– 1,461 homes
9. Maryland —————————- 1,339 homes
10. Oklahoma ————————– 1,264 homes
The sustained increase in industry production, reflecting just part of the growing demand for affordable manufactured housing, highlights the urgent need to revive and expand the availability of manufactured home consumer financing in general and manufactured home personal property (chattel) financing – including Federal Housing Administration (FHA) Title I financing — in particular. Manufactured home financing and especially chattel financing, as MHARR has repeatedly pointed out to Congress, FHA, the Government Sponsored Enterprises (GSEs) and their regulator, the Federal Housing Finance Agency (FHFA), provides millions of lower and moderate-income Americans with the lowest cost access to the American Dream of home ownership.
A revitalization and expansion of the availability of all types of manufactured home consumer financing would not only help home buyers in difficult economic times, but would also provide a welcome and much-needed boost for the industry – and the small businesses which comprise its traditional core — which suffered through a devastating production decline in excess of 90% between 1998 and 2011. In this regard, MHARR is undertaking a series of new initiatives designed to advance and expand the availability of both public and private financing for manufactured home purchases and especially chattel financing. Additional information on these initiatives will be released shortly.
The Manufactured Housing Association for Regulatory Reform is a Washington, D.C.-based national trade association representing the views and interests of producers of federally-regulated manufactured housing.
Manufactured Housing Association for Regulatory Reform (MHARR)