MAY 11, 2012
TO:                 MHARR MANUFACTURERS
                       MHARR TECHNICAL REVIEW GROUP (TRG)
FROM:            MHARR
RE:                 HUD EXTENDS ENFORCEMENT DATE FOR
                       SOUTHERN YELLOW PINE DESIGN VALUE CHANGES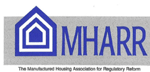 HUD has now responded to a May 7, 2012 MHARR letter regarding the Department's unilateral decision to adopt – effective June 1, 2012 — a March 2012 addendum to the National Design Values for Wood Construction (NDS Addendum) that would substantially increase  design values for Southern Yellow Pine (see, MHARR May, 7, 2012 memorandum and attachment).
Specifically, HUD Acting General Deputy Assistant Secretary for Housing – Acting Deputy Federal Housing Commissioner, Ronald Y. Spraker, verbally advised MHARR at 2:40 P.M. on May 11, 2012 that the effective date for the NDS addendum will be extended to January 1, 2013, citing an oversight by the Department in initially establishing the June 1, 2012 compliance date.
While this is welcome news given the virtual impossibility of actual compliance with the original June 1, 2012 deadline, it does not address — at least for the present time — other procedural issues regarding the adoption of such a change to the standards, including the need for MHCC review and rulemaking, both of which were raised in MHARR's letter to HUD on this matter and which MHARR will continue to press with the Department.  Hopefully, the program staff will follow the positive lead of Secretary Spraker and bring this matter to the Manufactured Housing Consensus Committee (MHCC) for proper follow-up.
MHARR will continue to closely monitor this matter and update you accordingly.
cc:  Other Interested HUD Code Industry Manufacturers
Manufactured Housing Association for Regulatory Reform
1331 Pennsylvania Ave N.W., Suite 508
Washington, D.C. 20004
Phone:  tel:202%2F783-4087 202/783-4087
Fax: tel:202%2F783-4075
Email: 
MHARRDG@AOL.COM