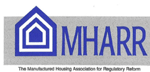 Washington, D.C., December 7, 2011 – The Manufactured Housing Association for Regulatory Reform (MHARR) reports that according to official statistics compiled on behalf of the U.S. Department of Housing and Urban Development (HUD), the manufactured housing rebound evident in recent months continued and expanded during October 2011, posting its third increase in 12 months. Just-released statistics show that in October 2011, HUD Code manufacturers produced 5,418 homes, up from the 3,849 HUD Code homes produced in October 2010, representing a corresponding-month increase of 40.7%. This increase brings 2011 cumulative industry production, through the end of October, to 42,488 homes — 3% lower than corresponding industry production of 43,842 homes over the same period last year, but a significant improvement over double-digit cumulative production declines posted earlier this year.
The continuation and growth of this production upswing is welcome news and makes it likely – if the current trend continues – that the HUD Code industry will equal or exceed its total 2010 production of 50,046 homes. According to industry sources, a significant part of this growth is attributable to increasing demand for employee housing associated with oil shale exploration and production activities in the Dakotas. As this and other related industrial activity continues to expand, the demand for affordable, readily deployable housing appears poised to follow the same track.

The Manufactured Housing Association for Regulatory Reform is a Washington, D.C.-based national trade association representing the views and interests of producers of federally-regulated manufactured housing.