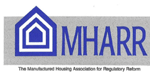 Washington, D.C., May 31, 2012 – The Manufactured Housing Association for Regulatory Reform (MHARR) reports that, according to a May 21,2012 U.S. Department of Housing and Urban Development (HUD) news release (copy attached), "three affordable housing developments"have been selected as "recipients of the coveted HUD Secretary's Housing and Community Design Award," recognizing "excellence in residential housing design." The HUD news release identifies the award winners are a "mixed-use Single Room Occupancy" apartment building (for "Excellence in Affordable Housing Design"), a homeless shelter (for "Creating Community Connections") and a downtown Boston public library (for "Community-Informed Design"). All three projects were financed either entirely with public funds or were heavily subsidized through grants and tax incentives offered by HUD and other government agencies, including urban renewal subsidies, HUD Recovery Act funds and low-income housing tax credits.
With all due respect to the HUD Secretary, MHARR maintains that public libraries and homeless shelters are not "affordable housing developments" in any meaningful sense of the term. By contrast, modern manufactured housing communities are. These communities, offering quality, modern manufactured homes, amenities and an affordable lifestyle that is within the means of Americans at every rung on the economic ladder, provide inherently affordable, non-subsidized home ownership for millions of real-world families. Yet, the key role played by manufactured housing is at best ignored by the Department, where it languishes in second-class status and, at worst, is actively threatened by arbitrary, needless and needlessly costly overregulation from within the HUD manufactured housing program.
Notwithstanding outdated design restrictions, a needless and needlessly costly expansion of production regulation, a parade of arbitrary "interpretations" of the federal standards and rules by HUD regulators that unnecessarily stifle the industry on an ongoing basis, and groundless restrictions on the availability of both public and private consumer financing, today's modern manufactured homes still offer innovative, technologically advanced designs that provide millions of American consumers with high-quality, truly affordable home ownership at a fraction of the cost of other types of housing (e.g., $35.73 per square foot for the industry's most affordable homes according to 2010 U.S Census Bureau data, as contrasted with an average structural cost of $84.07 per square foot for site-built homes, exclusive of land) without further burdening already hard-pressed taxpayers. Modern manufactured homes and modern manufactured housing communities could and should be the crown jewel of HUD's mission to assure safe, decent and affordable housing for all Americans, but are either ignored or slighted by the Department and other federal regulators.
Congress meant to correct this through the reforms of the Manufactured Housing Improvement Act of 2000 including, specifically, its directive for the appointment of a non-career manufactured housing program Administrator to, among other things, "facilitate the acceptance of the quality, durability safety and affordability of manufactured housing within the Department," but those reforms themselves have largely been ignored or bypassed by HUD.
Thus, while HUD and the nation spend billions of taxpayer dollars to provide affordable housing for American families, the real, cost-effective solution to the nation's housing needs, offering not just "housing" but the American Dream of home ownership for millions, sits ignored, right under HUD's nose, in the form of an industry that it fully and comprehensively regulates.
The Manufactured Housing Association for Regulatory Reform is a Washington, D.C.-based national trade association representing the views and interests of producers of federally-regulated manufactured housing.
Manufactured Housing Association for Regulatory Reform
1331 Pennsylvania Ave N.W., Suite 508
Washington, D.C. 20004