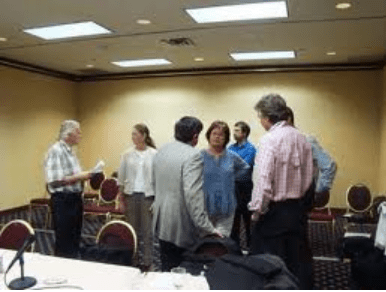 MHARR and other sources reported on the August 17th MHCC conference call with HUD. The Manufactured Housing Association for Regulatory Reform (MHARR) release provided a brief history on how HUD moved from "voluntary compliance" on expanded in plant inspections which was later deemed "not optional" by HUD. This was done in-spite of past opposition at the Manufactured Housing Consensus Committee (MHCC) and without further consultation by the MHCC. Sources state this subverts a key purpose of the MHCC, which was created as a check on regulations created by the Manufactured Housing Improvement Act of 2000 (MHIA 2000). Sources tell MHProNews.com that without reasonable controls of HUD regulators and their contracted agents, smaller manufacturers can be regulated out of existence, especially when shipment levels are at historic lows. This in turn can cause higher prices for retailers, communities and consumers. As Doug Gorman and others who have served on the MHCC have previously reported to MHProNews.com, this is precisely the types of efforts MHARR takes on that the industry needs. Gorman noted that the MHIA of 2000 requires HUD to do a cost benefit analysis of such regulations, which is also the position of MHARR. A link for the full MHARR press release is here.
(File Photo credit: MHProNews.com April 2010 MHCC meeting)
Editor's Note: While most of our blogs and feature articles have the ability to post comments, Daily Business News stories do not often get posted comments.  That said, this one has already had two posted.  Click the comments tab, and within the bounds of civility and common sense, readers comments are welcome and encouraged.  Naturally, no 'spam' is allowed.  MHI issued their own report on this subject one day after MHARR's, which is part of the MHI Week in Review at this link.