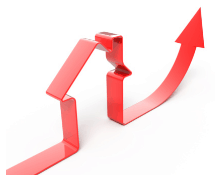 According to HousingWire, CoreLogic offers the following housing scorecard for 2012:
4.2 million home sales, up from 3.9 million in 2011, a six percent increase;
first year-over-year sales increase since 2005;
REO (real estate-owned) house sales fell 20% to 600,000;
new home sales rose three percent to 300,000;
short sales rose 23% to 370,000 units:
the serious delinquency rate dropped 7.4% to 6.9%;
serious delinquencies fell by one million loans since the downturn.
MHProNews has learned CoreLogic predicts the housing market will continue to improve despite the impact of the QM or other regulations. "Rising home prices will continue to slowly release pent-up supply as under-equitied borrowers are unlocked and opportunistic sellers begin to provide relief to tight inventories," says the data research firm.
(Image credit: etftends)