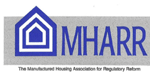 MHARR has received several inquiries regarding the details of Representatives John Campbell's (R-CA) and Gary Peters' (D-MI) GSE reform legislation that they unveiled on May 12, 2011. The below material (including the accompanying sites) will provide the relevant details of this legislation, which is a must-read for the housing, finance and mortgage executives. As introduced, this legislation, which has a good chance to gain bipartisan support in Congress, would replace Fannie Mae and Freddie Mac with five chartered entities that have an explicit government backing for mortgage bonds.
---
05/12/11
FOR IMMEDIATE RELEASE
Thursday, May 12, 2011
Reps. Peters and Campbell Introduce Bipartisan Plan to End Bailouts & Protect Homeownership
Wall Street Journal: Analysts say Campbell-Peters is "Only Plan Likely to Attract Sufficient Support from Both Parties"
Washington, DC – Representative Gary Peters and Representative John Campbell (R-CA) have introduced a bipartisan plan to reform the mortgage market – putting an end to taxpayer-funded bailouts while preserving access to affordable mortgages for middle class families.
The Campbell-Peters plan would overhaul the federal mortgage finance system and wind down the embattled mortgage giants, Fannie Mae and Freddie Mac, while establishing a new system of private associations – funded by private capital – to continue ensuring liquidity in the secondary mortgage market. While mortgage investments would still be backed by a government guarantee, the plan mandates strict standards, safeguards and capital requirements to protect taxpayers.
"This is a reasonable, bipartisan approach to achieving two key goals: putting an end to taxpayer-funded bailouts and ensuring that responsible, middle class families can still achieve the dream of homeownership," said Representative Gary Peters. "The status quo is unacceptable, but eliminating any government role in the mortgage market would undermine the fragile housing recovery and essentially eliminate the 30-year fixed rate mortgage."
While some on the right have proposed removing the government from the secondary mortgage market altogether, most housing experts and economists agree that this would drastically raise the cost of mortgages for average families – and could jeopardize the housing recovery.
Conversely, the current system allowed the GSEs to rack up massive profits while leaving the taxpayers with all of the risk. As a result of the economic collapse, the government will have to pay as much as $150 billion to bail-out Fannie Mae and Freddie Mac.
Reporting on the Campbell-Peters plan, the Wall Street Journal noted that: "Analysts say that the compromise proposed by Rep. John Campbell (R., Calif.) and Rep. Gary Peters (D., Mich.) may be the only plan likely to attract sufficient support from both parties on a politically explosive subject, particularly at a time when gridlock looms over issues such as how to curb federal spending."
The Campbell-Peters plan would replace the existing system with privately capitalized entities authorized to purchase an explicit and limited guarantee covering the securities they issue. The proposed system would be built on the concept of the Federal Deposit Insurance Corporation (FDIC), and would ensure that bedrock housing financial products like the 30-year fixed-rate mortgage remain accessible for qualifying households.
Securities issuers would be required to keep healthy capital reserves, which would stand in between taxpayers and potential losses, and would also pay into a privately-capitalized catastrophic reinsurance fund. The fund could only be tapped in after the issuer's assets had been exhausted, and would cover payment of principal and interest on mortgage-backed securities to investors only.
"With the housing market so fragile, we need practical, bipartisan solutions to protect taxpayers and ensure that middle class families can still have access to affordable mortgages – and that's what this plan achieves," said Rep. Peters.
###
---
Attached items:
Section-by-Section Summary of H.R. 1859
The Housing Finance Reform Act of 2011