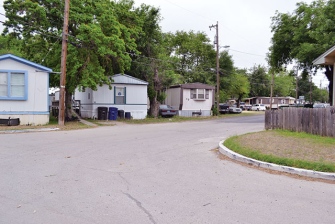 Gentrification has become a hot topic in many parts of the U.S.. MHProNews   took a look at the issue as it's playing out for residents in a manufactured home community (MHC) in San Antonio.
New residents coming to downtown are a welcome sight to local businesses. So a planned mixed use development coming to the area is welcome, but it is coming at the cost of the homes for those in a south side MHC that is set to be closed.
Former mayor, Julian Castro – who has since become Secretory for Housing and Urban Development (HUD) – called for a task force of civic leaders and council members to examine the issue of gentrification and how its impact can best be handled. This, mySA says, followed the controversial decision to close a MH Community, which forces the removal of hundreds of families.
Brenda Reyna, says the ExpressNews, spent years several thousands on a three-bedroom home for her son and daughter in the Mission Trails community on the South Side. "This is my neighborhood for many years," she said in Spanish.
The City Council rezoned the property last May so a $75 million, high-end mixed-use development, that will include 400 apartments.
Part of the plan would call for a guaranteed sum to those displaced. Staffers are looking at how other cities have dealt with similar issues, looking for options. They're considering low-income housing tax credits (LIHTC), zoning incentives and a bond election to help fund projects, including affordable housing.
For those moving out early, a $2500 incentive was offered by the developer. Nicole Elizalde Henning, an attorney working on behalf of Mission Trails residents, criticized the developer White-Conlee and the seller, American Family Communities.
Economic improvements and answers to how funds are distributed so they "benefit the current residents as well as future residents coming in," are being reviewed, said Rod Radle, a member of the task force and former executive director of San Antonio Alternative Housing Corp. "I think anyplace where you don't have a public policy in place that encourages mixed-income development, you will have potential for problems."
Redevelopment using aging manufactured home communities – often referred to as 'mobile home parks' – has been taking place for some years in much of the U.S.. Some estimates are that over 5,000 MHCs have closed since 2000 nationally, often in favor of redevelopment for commercial or residential use.
For a prior report earlier into the action leading to the closure of this community, click here. ##
(Photo credit: SA Current)
Article submitted by Josie Thompson to – Daily Business News – MHProNews