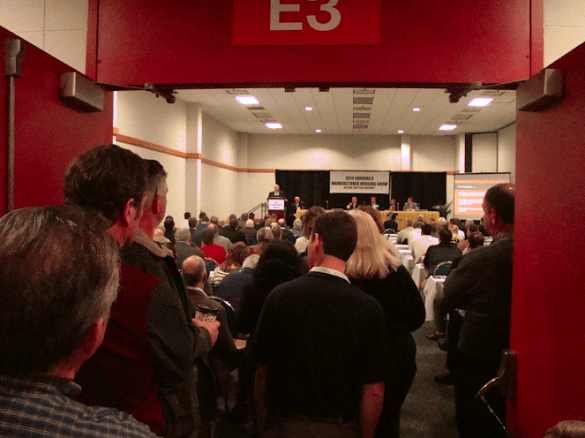 Some 2100 +/- manufactured housing industry professionals from all segments of the industry are expected at the 2014 Tunica Manufactured Housing Show. Registrations have come in from states coast to coast.
The Tunica Show features more homes and exhibitors than any other industry trade show in North America. Networking and free luncheon's are part of the show line up.
Popular finance and business building seminars are offered free to industry attendees. General information about the finance and business building seminars are found linked here.
Tunica offers popular free manufactured and modular home finance panels, which features top industry lenders as well as MH Community commercial lending panels, both moderated by MH finance expert, Dick Ernst..
Business Building CRM, Marketing and Sales building programs and a Manufactured Home Community Lesson's Learned panel discussion are on the schedule. A guest column by Brad Nelms on Why Retailers and Community Operators should Go Tunica, is linked here.
A possible program change may occur in the MHC Lessons Learned panel, which is being moderated by the National Community Council's VP, Jenny Hodge. Rick Rand has advised seminar management that he may not be able to attend, but seasoned veteran and MHC-MD.com consultant, L. A. "Tony" Kovach will be available as an alternate panelist for that session. Featured MHC panel experts include Tammy Fonk with CBRE who has years of experience in a family owned community, as well as Maria Horton, a respected executive from west coast MHC powerhouse Newport Pacific. Seminars will be held in the Harrah's Convention Center exhibit hall.
Video interviews are planned at the show, such as the ones linked here.
The current forecast for the Tunica Manufactured Housing Show is a sunny on Wednesday 3/26/2014 with a low of 43 degrees and a high of 55. Thursday's forecast is partly cloudy, with a 10% chance of rain, low of 54 and a high of 63. Friday's forecast is mostly sunny, but 40% chance of rain, with a low of 43 and a high of 69.
This is an industry trade show, and is not open to the general public. Industry professionals are reminded that they can typically gain free admission by bringing their photo ID and business card. ##
(Image Credit: MHProNews)