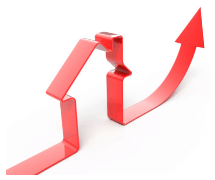 CNNMoney has selected several cities where the housing market looks brighter than in other cities for the coming year. Oklahoma City has an unemployment rate of just 5.3 percent as of Nov., 2013, and home values have declined a mere one percent since 2009. Trulia reports 75 percent of homes that are for sale are accessible to homebuyers of middle-income means.
With a limited amount of available land, Seattle is expected to become a hot market next year. Although it was hit hard by the recession, home prices have rebounded and the area has recovered more quickly from record foreclosures than other metro areas. Additionally, job growth has been stronger than in most U. S. cities.
Home to high-tech firms and several top-notch universities, the population of Raleigh, North Carolina grew from 2009 to 2012 at an annualized rate of 2.3 percent, ranking second among the top ten metropolitan areas with the largest population growth. Trulia reports 69 percent of the homes for sale are affordable to middle-income Americans, as MHProNews has been informed.
Having spent $623 million on a downtown convention center complex, Nashville, Tennessee has been chosen by both The New York Times and Trulia as having a burgeoning housing market. According to the Greater Nashville Association of Realtors, closings rose 18.9 percent in the past year, and the median price for a single family home increased to $195,000 from $179,900 during the year.
Finally, both Zillow and Trulia have chosen Salt Lake City as a burgeoning housing market because Utah's unemployment rate in October was 4.6 percent, one of the lowest in the country, and well below the seven percent national rate.
(Image credit: etftrends.com)