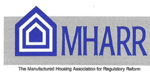 MHARR has received many inquiries from industry members regarding a HUD final rule, published in the December 11, 2013 edition of the Federal Register, entitled "Qualified Mortgage Definition for HUD Insured and Guaranteed Single Family Mortgages," and specifically its relation to MHARR's effort to have the Government National Mortgage Association (GNMA) re-visit and re-examine its restrictive "10-10" rule for the qualification of approved Federal Housing Administration (FHA) Title I and Title II manufactured home loan issuers. Thus, the additional information set forth below.
According to the HUD preamble, the final rule, which completes a rulemaking initiated September 30, 2013, "establishes a definition of 'qualified mortgage' for the single family residential loans that HUD insures, guarantees, or administers that aligns with the statutory ability-to-repay criteria of the Truth-in-Lending Act (TILA) and the regulatory criteria of the definition of ''qualified mortgage'' promulgated by the Consumer Financial Protection Bureau (CFPB)." (Emphasis added).
The final rule thus pertains (among other things) to loans and mortgages insured by FHA, but states that Title I and Title II manufactured home loans will be deemed to be "safe harbor" qualified mortgages. The HUD preamble thus states: "In this final rule, the definition of ''qualified mortgage,'' as provided in HUD's September 30, 2013, proposed rule … is retained with certain clarifications and exceptions…. [T]his final rule designates Title I (property improvement loans and manufactured home loans) … covered by this rule as safe harbor qualified mortgages and no changes to the current underwriting requirements of these mortgage and loan products are made by this final rule. To this list, FHA adds manufactured housing insured under Title II of the National Housing Act (Title II) and clarifies that the Title I Manufactured Home Loan program is included in the Title I exemption." (Emphasis added).
The manufactured housing exemption is also addressed by a December 11, 2013 HUD press release (copy attached), which emphasizes that: "HUD's rule covers Title II manufactured housing, Title I manufactured housing and property improvement loans, Section 184 Indian Home Loan Guarantee Program mortgages and Section 184A Native Hawaiian Housing Loan Guarantee Program mortgages. The rule designates loans insured under these programs as Safe Harbor Qualified Mortgages regardless of upfront points/fees and APR to APOR ratio so as not to interfere with current lending practices until appropriate parameters can be determined." (Emphasis in original).
Given this ruling and HUD's specific statements, in conjunction with the refusal of the Consumer Finance Protection Bureau to alter or delay highly restrictive Dodd-Frank criteria for private-sector manufactured home loans, it appears that FHA loans – and especially Title I chattel loans — could assume much more importance within the manufactured home financing market, but the origination of such loans is currently being thwarted by the restrictive GNMA 10-10 criteria, which have resulted in the approval of just two related companies, a sharp decline in competition within that market and a sharp curtailment in the number of Title I originations — which currently comprise the bulk of the manufactured housing market.
These latest developments thus underscore the importance and relevance of MHARR's initiative — most recently addressed in a November 15, 2013 letter to GNMA President Theodore Tozer (a copy of which was sent to you on November 19, 2013) — urging GNMA, given its sole-source contractual relationship with one of those approved lenders and access to relevant manufactured home loan performance data, to re-visit and re-examine the subjective 10-10 criteria as previously promised by senior officials. MHARR will continue to press GNMA to review this matter, and will keep you apprised as new developments warrant.
On a closely related subject, given the importance to the industry of consumer finance-related matters and given the volume of inquiries that MHARR is — and has been – receiving regarding the effort to expand available sources of consumer financing, MHARR is adding a new category to its master mailing list for such companies. Accordingly, please feel free to share this document (and any and all other relevant MHARR information) with such consumer finance companies, and encourage those who are not currently receiving information from MHARR to provide their electronic contact information to us, so that they can be included in this new mailing group and receive relevant information directly from MHARR at no cost.