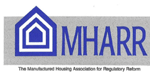 The Federal Housing Finance Agency (FHFA), on June 11, 2012, published its latest proposed set of affordable housing goals for the two Government Sponsored Enterprises (GSEs) – Fannie Mae and Freddie Mac — in the Federal Register (please see copy attached). The affordable housing goals, set by FHFA as the GSEs' federal regulator, establish key benchmarks for the GSEs in fulfilling their prime statutory function – providing market support for affordable housing and home-ownership — and are directly relevant to the nature and adequacy of GSE support for and participation in the manufactured housing market.
While support for manufactured housing real estate (i.e., mortgage) loans, as acknowledged by the GSEs, has historically played an import role in allowing the GSEs to approach compliance with affordable housing goals in the past, appropriate support for the much larger pool of manufactured home chattel loans via securitization or purchase – as a going business – would significantly enhance full compliance by the GSEs with both the affordable housing goals and their broader statutory mission. The publication of the proposed goals, therefore, and the accompanying request for public comment on all aspects of the goals and the underlying FHFA data and analyses, provides MHARR with a prime opportunity to urge FHFA, once again, to authorize and advance GSE support for manufactured home chattel loans.
This coincides, moreover, with a broader effort by MHARR — discussed and decided at the Association's March 2012 meeting in Tunica, Mississippi — to seek federal support for manufactured home chattel loans, which was fully addressed at a May 24, 2012 meeting between FHFA officials and a delegation of MHARR member executives and staff, the relevant details of which will be forthcoming soon.
Accordingly, MHARR, on behalf of all members, will submit detailed comments to FHFA on the affordable housing goals, making the case – as emphasized by MHARR at the May 24, 2012 meeting — that the GSEs should be authorized to securitize and/or purchase manufactured home chattel loans. For industry members who wish to submit separate comments, either on chattel lending support or other aspects of the affordable housing goals, the filing deadline is July 26, 2012. Other relevant details can be found in the attached notice.
Danny D. Ghorbani, President
Manufactured Housing Association for Regulatory Reform