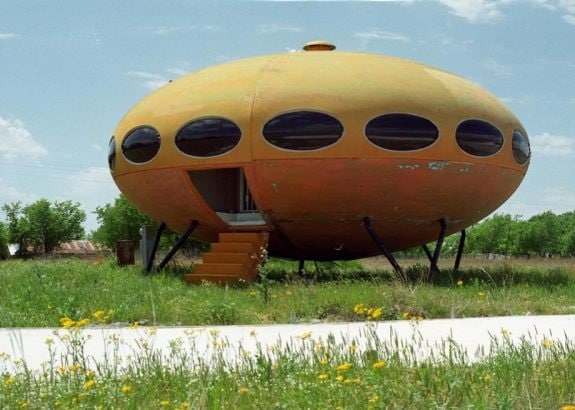 Those of you who were alive in the 1960s, may remember the great interest everyone had in outer space. At the time, the United States was involved in a space race with Russia. Television programs reflected this interest with programs such as "Lost in Space," "Star Trek" and in the 1970s the all-time cult-classic movie "Star Wars." There was also the cartoon series called "The Jetsons."
Some of that interest in space became translated into housing designs that looked like UFOs, and even today, there are a few of them left, scattered in various place around this planet.
In 1968, Finnish architect Matti Suuronen designed a prefabricated building, later called the Futuro House, made from fiberglass-reinforced polyester plastic, a light, insulating material derived from oil. As reported by Allison Meier on Atlas Obscura, the first home built was a ski lodge, and the design worked well for this use. Slate  tells MHProNews  that homes made from this plastic could be transported easily and were quick to heat up—a major plus for skiers eager to take off their boots and sample the fondue after a long day on the slopes.
Suuronen's homes had an elliptical silhouette, measured 26 feet wide by 13 feet high, and stood on metal legs for stability. A ring of 20 oval windows added to the extraterrestrial feeling. A flip-down staircase granted access to the interior, which contained a bedroom, small bathroom, kitchen, and dining area. A wall lined with a long, curved couch was designed to convert into a (very cozy) bed for six. A circular fireplace in the center completed the feeling of a space-age living arrangement.
But a funny thing happened on the way to success. No more than 100 of these dwellings were ever built. The failure of this venture was blamed on the 1973 oil crisis that caused the price of oil to quadruple. Suddenly, Futuro Houses were no longer economical to make and production ceased.
But could it be that this idea was just a bit too far out for even the space enthusiasts of that era?
Today a few of the surviving spaceship style homes can be found in the United States, Japan, Australia, New Zealand, Sweden, Denmark, and Germany. 
Many of the remaining Futuros are quietly rusting away, but others have been lovingly restored and repurposed. Australia's University of Canberra has converted a Futuro into a study space, while a Tampa strip club uses its rooftop Futuro as a VIP Room. ##
Related Futuro House on display, with photo, at this link.#
(Photo Credit: Steve Rainwater, Flickr Creative Commons. Graphic Credit: Carly Lesser & Art Drauglis, Flickr Creative Commons)

Article submitted by Sandra Lane to – Daily Business News – MHProNews.