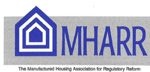 As expected (see, June 13, 2016 MHARR Memorandum on publication of the "Spring 2016 Federal Semi-Annual Regulatory Agenda"), the U.S. Environmental Protection Agency (EPA), in a News Release issued on July 28, 2016, has announced the imminent publication of a final rule to establish national formaldehyde standards for certain (domestically-manufactured or imported) composite wood products ((i.e., hardwood plywood, medium-density fiberboard and particleboard).
EPA published proposed rules to establish these standards, as well as a framework for a third-party certification program for composite wood product panel producers – in accordance with the Formaldehyde Standards for Composite Wood Products Act of 2010 – in the June 10, 2013 Federal Register. That law directed EPA to establish federal formaldehyde standards for those specific composite wood products that are identical to standards already adopted and enforced by the California Air Resources Board (CARB), together with appropriate enforcement mechanisms. MHARR filed written comments in this proceeding on September 9, 2013. EPA then extended the comment period and conducted a public meeting with affected stakeholders in April 2014 (attended by MHARR) in order to obtain and consider information specifically pertaining to the treatment of laminated wood products.
The final EPA standards are important for manufactured housing because the same authorizing legislation directs HUD to revise its own manufactured housing standards to "reflect" the final EPA standards. Given the fact that the EPA standards will mean more restrictive emissions criteria and higher costs for composite wood products used in all homes, MHARR's written comments noted that both the industry and manufactured homebuyers deserve relief in the form of the repeal of the existing HUD formaldehyde standards, and the red formaldehyde "health" notice currently mandated by the HUD standards, concurrent with the effective date of the EPA standards. As emphasized by MHARR, if all composite wood products supplied to the home-building industry in the future will comply with the higher EPA formaldehyde standards, there is no need for the costs associated with the HUD standards enforced at the home manufacturer level or the discriminatory formaldehyde "health" notice.
MHARR anticipates that HUD will initiate a separate rulemaking to address revisions to its own Part 3280 manufactured housing standards to "reflect" the EPA requirements. MHARR will thoroughly review the EPA final rule and submit comments to HUD when HUD, in compliance with the law, begins its own rulemaking process. As a threshold matter, however, HUD, in accordance with the requirements of the Manufactured Housing Improvement Act of 2000, must bring this matter to the Manufactured Housing Consensus Committee at an early and meaningful stage in the proceeding for its review, consideration and consensus recommendations.