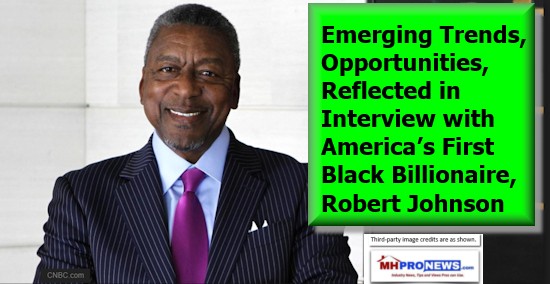 Industries, companies and professionals ignore or overlook emerging trends to their own peril.
Significant trends are emerging in the black community, that bear close attention, as a recent interview with America's first black billionaire, Robert Johnson indicates.
Background
Nationally, under 9 percent of manufactured home residents are blacks or African Americans, per the research done by the Consumer Financial Protection Bureau (CFPB) for their 2014 white paper on manufactured housing.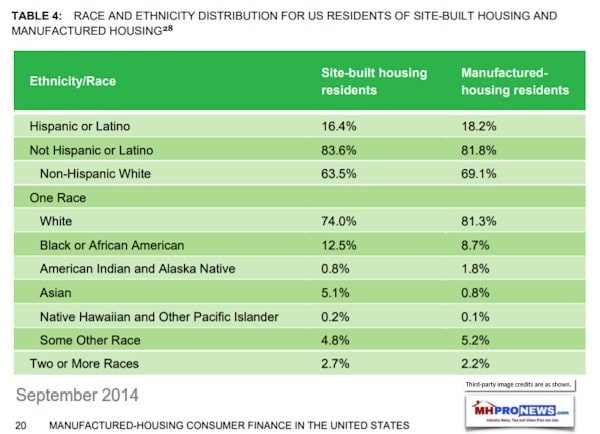 In places like the Chicago metro, there are some land lease communities that have sizable black populations.  In various parts of the country, the black population presents a well-established customer base for manufactured housing sales.
But more is possible, and needed.
As HUD Secretary Ben Carson, M.D., noted last year, home ownership is statistically one of the keys to wealth building. Carson said that the typical renter has a net worth of about $5000, while the typical home owners net worth is about $200,000.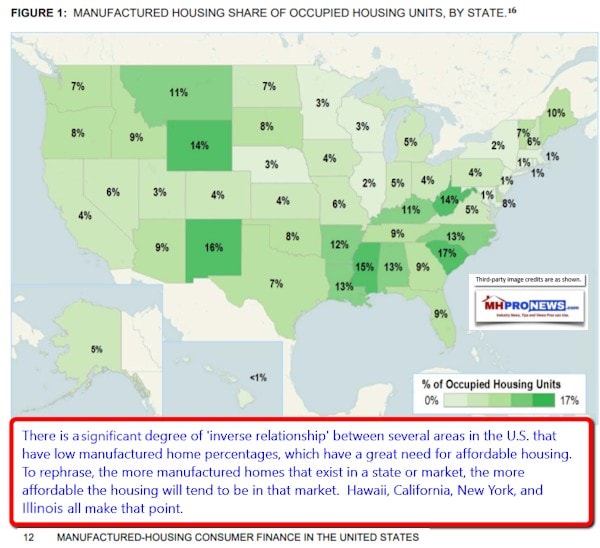 In that observation, Carson echoes research produced by CFED (rebranded as Prosperity Now), or commentary by manufactured home advocate, the Rev. Donald Tye, Jr.
The ideal outcome for the vast majority of Americans is to see more home ownership, and a decreasing need for subsidized housing.
In that regard, reams of research reflects the fact that manufactured housing is the all-star solution for largely unsubsidized homes that are affordable to the vast majority of the population. This is true in part because of its superior affordability – and as Carson noted – the surprising quality of modern manufactured homes.  See the related reports for more insights, linked at the end of this article.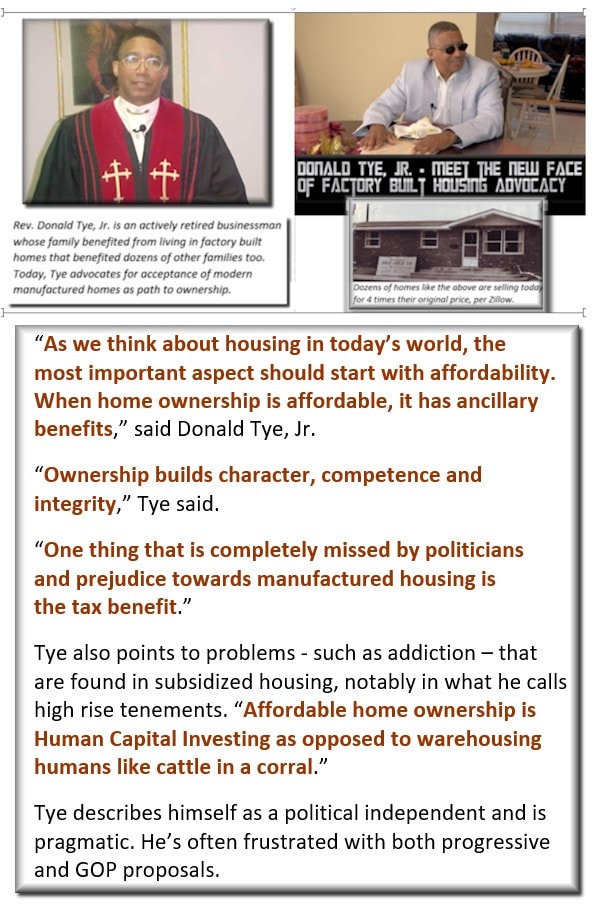 Home sales – conventional and manufactured – often track with employment data. As employment rises, and incomes grow, so too does housing sales.
Johnson's Interview in that Context
In that context, the comments of BET founder Robert Johnson's interview with CNBC are noteworthy for social, economic, political and opportunities to increase home ownership to a population that lags behind other racial groups.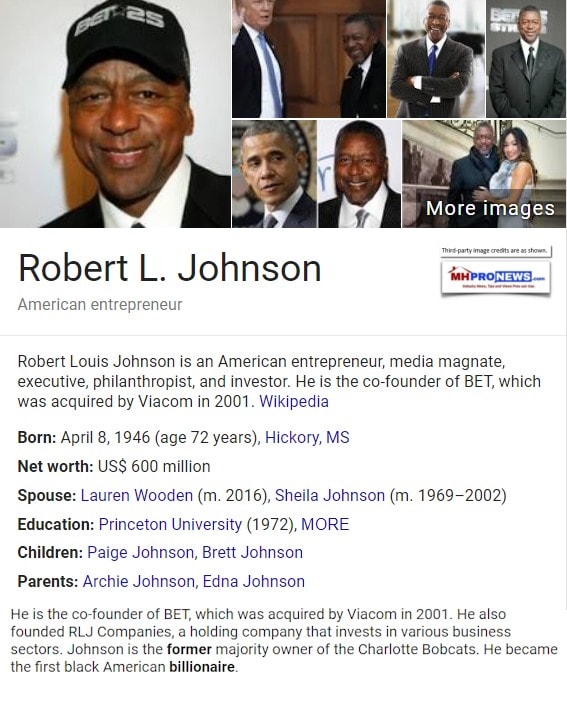 Put differently, the improvements in black employment and earnings, combined with relatively low levels of home ownership are strong potential target markets for manufactured housing companies.
Some of the bullets by CNBC in the video interview with Johnson include:
The growing U.S. economy and improving business environment bringing black workers back into the labor force, BET founder Robert Johnson told CNBC.
"

When you look at that, you have to say something is going right

," Johnson says.
Highlights from Johnson's Video Interview
In January, the Labor Department reported the unemployment rate among black workers was at its lowest since at least the early 1970s, when the government began tracking the data.  The unemployment rate for African Americans was unchanged in March at 6.9 percent.
"When you look at that [January report], you have to say something is going right," said Johnson, whom CNBC describes as a Democrat and founder BET and chairman of The RLJ Companies.
"You have to take encouragement from what's happening in the labor force and the job market," Johnson said "When you look at African-American unemployment, … you've never had African-American unemployment this low and the spread between African-Americans and whites narrowing."
Johnson said that means the jobs market is "soliciting employees who have been out of the labor force, some of it based on discrimination, some of it based on changes in education, access and technology changes."
Johnson noted several positive initiatives undertaken by the Trump Administration. "I believe if you take into account the Trump tax cut, you take into account the drop in unemployment, … and you take into account that interest rates are fairly stable," he said.
"I believe the economy is on a strong growth path," Johnson added. He said he didn't think economic growth would hit 5 percent, which his friend and long-time CNBC contributor, Larry Kudlow, says could happen.  Kudlow recently joined the Oval Office's economic advisory team.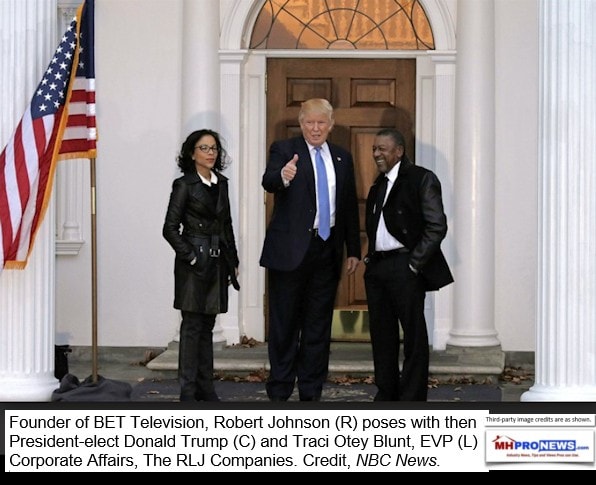 Working with POTUS Trump?
Johnson spoke about a job offer he received from Trump during the transition. He said he didn't take the unnamed position because he didn't want a government role, not because of any disagreement with the president or his policies.
"No matter what the president would do," Democrats and other political opponents would slam the president, Johnson said. He spoke about concerns over the "deep state." But he stressed that "Something is going right," for blacks and the nation as a whole.
Rhetoric and Charlottesville
Johnson told the president-elect during the transition, "Do not say, 'what do you have to lose.'" Rather, he encouraged the president to talk about what they have to gain from a Trump Administration.
Those gains are now being felt.
Johnson said he's met with the president since the transition. He spoke about his "access" to Steve Mnuchin, the Labor Department, and GOP leaders like Senator Tim Scott (R-SC).  Johnson said he's working on issues related to "leakage" in "small dollar 401K accounts," which if changed, would help blacks and others.
He also spoke about serving black banks, among numerous other issues raised.
Pressed by CNBC panelists on Charlottesville, the president's rhetoric, and Donald Trump's alleged racial bias from some quarters, Johnson said, "I don't think he's racist."
RLJ Companies Insights
From third party sources, and from a listing on their website, the influence that Johnson has in the black community is apparent.  A few pull quotes from their website:
Johnson was named by USA Today as one of "The 25 Most Influential Business Leaders of the Past 25 Years."
In 2014, three of Johnson's holding companies were featured on the Black Enterprise 100s list: RML Automotive, LLC ranked 1st in a category of 60 in the auto dealership rankings; RLJ Equity Partners, LLC and RLJ Credit Management, LLC ranked 12th and 14th respectively on the private equity firms list.
Currently, Mr. Johnson serves on the following boards: RLJ Lodging Trust; RLJ Entertainment, Inc.; KB Home; Lowe's Companies, Inc.; Retirement Clearinghouse; Elevate Credit, Inc.; The Business Council; and Smithsonian Institution's National Museum of African American History and Culture. Mr. Johnson holds a Master's degree in international affairs from the Woodrow Wilson School of Public and International Affairs at Princeton University and a Bachelor of Arts degree in social studies from the University of Illinois.
The Bottom Lines?
Johnson is a highly educated, successful, and a very well-connected professional.  He clearly sees value to the Trump agenda for African Americans, but also for the nation at large.
As Johnson noted, the facts about rising employment, opportunities, and income for blacks are all good signs.
He's met with the president on a number of occasions.  Johnson seems to believe that the president isn't the racist that some of his opponents would have people believe. He clearly stated that the agenda is a good one for blacks and for the country.
Black Americans lag behind other ethnic groups in housing ownership.  The comments by Johnso – combined with insights from HUD Secretary Carson about the "amazing" quality found in today's manufactured homes – all point to potential opportunities for more industry professionals to better serve the needs of the black community.
HUD Secretary Ben Carson, MD, Senator Thom Tillis, Affordable Housing, Senate Oversight Hearing, Manufactured Homes, Mobile Homes, Trailer Houses, Manufactured Home Living, Factory Built Housing 101, Evolution Trailer Houses Mobile Homes Manufactured Homes, Compare Site Built with Manufactured Homes, video, home tours,
Carson noted several times last year that home ownership is important for wealth building, a point that manufactured home advocate the Rev. Donald Tye, Jr. has also stressed. ## (News, analysis, and commentary.)
(Third party images are provided under fair use guidelines.)
Related Reports:
Today we'll keep it shorter than normal, because we want you to be able to focus on the infographic and data provided below. We could sum this up like this. There is a lot of misinformation about modern manufactured homes, starting with terminology. From there, one can move on to issues of quality, durability, appreciation, and more.
Affordable Housing, and Today's Manufactured Homes, Yesteryear's Mobile Homes, Hawaii, manufactured home loans, mobile home loans, trailer houses, mortgages, financing, Mark Weiss, Barry Noffsinger, Manufactured Housing Assoc Regulatory Reform, Steve Duke, LMHA, Triad Financial Services, Sunshine Homes, Red Bay AL,
"Move, Open, Live" De Rose Industries & Senator Thom Tillis' Mobile Home Comments
YIMBY vs. NIMBY, Obama Admin Concept Could Unlock $1.95 Trillion Annually, HUD & MH Impact
To sign up in seconds for our industry leading emailed news updates, click here.
2) To provide a News Tips and/or Commentary, click the link to the left. Please note if comments are on-or-off the record, thank you.
3) Marketing, Web, Video, Consulting, Recruiting and Training Resources

Submitted by Soheyla Kovach to the Daily Business News for MHProNews.com.
Soheyla is a managing member of LifeStyle Factory Homes, LLC, the parent company to MHProNews, and MHLivingNews.com.