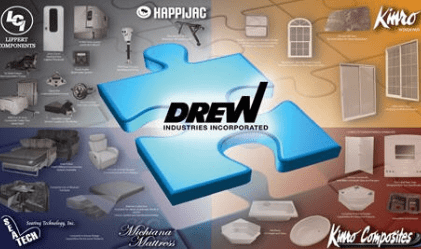 Net sales for Drew Industries, Inc. (NYSE:DW) in the first quarter of 2015 rose to a quarterly record $361 million, 27 percent higher than for the same period 2014, resulting in net income of $20.1 million, $0.82 per diluted share, versus $16.2 million, or $0.67 per diluted share for the quarter ending March 31, 2014.
The growth in net sales is primarily the result of a 29 percent increase in net sales of the company's recreational vehicle (RV) sector. While the RV segment accounted for much of the company's growth, the manufactured housing (MH) segment's net sales (OEMs) increased nearly eight percent, from $16.5 million to $17.8 million, Q1 2014 to Q1 2015. Operating profit for the MH sector grew from $2.3 million to $2.7 million, year-over-year.
Sales for April 2015 have already set a record for the month, hitting $129 million, 14 percent higher than April of last year, as marketwatch informs MHProNews.
"With the strong underlying demand for our products in the first quarter of 2015, we achieved record net sales, the highest level for any quarter in Drew's history," said Jason Lippert, Drew's Chief Executive Officer. "The industries we serve continue to grow, which, when coupled with our recent acquisitions, new products and market share gains, have led to the significant increase in our net sales for the first quarter of 2015."
Drew has acquired two additional subsidiaries in 2015: EA Technologies, a manufacturer of custom aluminum and steel parts, and provider of powder-coating services; and Spectal Industries, a Canadian producer of windows and doors for buses, emergency vehicles, RVs and trucks.
From 41 facilities across the nation and Canada, through its wholly-owned subsidiary, Lippert Components, Inc.,  Drew supplies components to the manufactured housing and recreational vehicle industries.##
(Image credit: Drew Industries, Inc.)

Article submitted by Matthew J. Silver to Daily Business News-MHProNews.