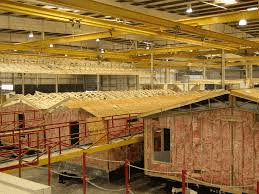 Steve Sinovic, writing in abqjournal, says sales of manufactured home sales are up, a popular and affordable housing choice for New Mexicans, some eighteen percent of whom live in manufactured housing. However, financing costs are being driven up by the Consumer Financial Protection Bureau (CFPB) implementation of the Dodd-Frank law. Additionally, the two government sponsored enterprises (GSEs), Fannie Mae and Freddie Mac, are reluctant to deal in manufactured home personal property loans, thereby depriving MH sales of a secondary market. This means that lenders have to maintain the loans on their books and thus have a somewhat higher interest rate than conventional housing.  
Even with that rate difference, most save money on manufactured home payments, as MHLivingNews has often documented, as in the example linked below. 
Renters' Nation: The Dark Side of Dodd-Frank and Its Impact on Affordable Housing
Paul Stull, president and CEO of the New Mexico Credit Union Association, is joining with other credit unions in lobbying to make more low interest loans available to families of more modest means who want to purchase a manufactured home (MH). He noted a provision in the Consumer Financial Protection Bureau (CFPB) that results in closing costs on a manufactured home similar to that of a large traditional-built home.
"We are trying to get the CFPB to realize that one size does not fit all," said Stull of what he considers regulatory overreach. "The same rules that apply to million-dollar homes" apply to a new MH selling for $40,000 in New Mexico.
Dave Woodruff, president and CEO of Los Alamos-based Zia Credit Union, said affordable housing in the northern New Mexico region he serves is challenging because of lower incomes and limited available land. He lost 15 to 20 loans in the last year because they were not secured by land. It 's not that the applicants were especially risky, but rather because of CFPB rules.
The absence of credit unions and community banks willing to make MH loans has concentrated 90 percent of MH lending in the hands of a few specialized MH lenders: Triad Financial, Cascade, Clayton Homes/Vanderbilt Mortgage and Finance, 21st Mortgage Corp. and San Antonio Credit Union's CU Factory Built Lending and Mountainside Financial Service, as the Manufactured Housing Institute (MHI) tells the abqjournal.   
While the thrust of Sinovic's report was insightful, it also cites outdated and inaccurate information that has since been contradicted by Richard Cordray, U.S. Senators, consumers and MH Lenders – which will be featured in a new video report on MHLivingNews.  MHPros and investors should aquaint themselves with a timely Op-Ed by Titus Dare, on why the GSEs are not all in on Duty to Serve being applied to chattel lending.
Duran lauds the finance companies willing to take the risk for the borrowers who have less than sterling credit, but realize the advantage of a manufactured homes over apartments. "They are building their credit. They are building equity," said Duran of buyers. "A manufactured home is a great way to get in on the ground level."
For an interview with Triad Financial's Don Glisson, Jr. that has insights on why MH lending rates tend to be higher, please click here. ##
(Photo credit: Manufactured Housing Institute–manufactured homes under construction)

Article submitted by Matthew J. Silver to Daily Business News-MHProNews.