Each of the panels and presenters at the 2013 National Communities Council (NCC) inaugural 2013 Fall Leadership Forum offered multiple take-aways which properly applied could have been worth more than the price of admission.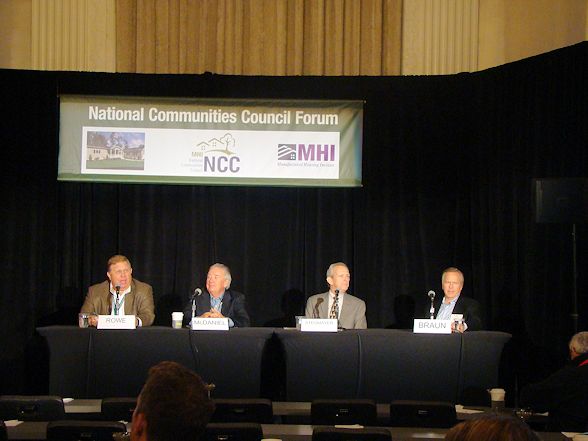 Randy Rowe (l), Gary McDaniel, Joe Stegmayer, Stephen Braun (r)
For this column, we will focus on a very focused segment of the final panel discussion – The Future of the Land Lease Business Model – which featured Randy Rowe, Green Courte Partners (GCP), Gary McDaniel of Yes! Communities, Joe Stegmayer, Cavco Industries and Stephen Braun of Hometown America.
Don Westphal commented during the discussion that manufactured housing is "….the only industry that succeeded in spite of itself."
Joe Stegmayer commented on the importance of sales training and product knowledge.
Since marketing, image and branding where among the topics at the NCC Fall Forum, certainly Don's and Joe's comments could have easily been applied to what is often the lack of a proper implementation of marketing and sales training in our industry. Does this cost our industry and land lease communities business?
A number of Industry Voices guest blog posts last month answered that question with a strong "yes."
The subject of national MH Industry image campaign came up near the end of the panel discussion. Cavco Chairman and CEO Joe Stegmayer stated that "We would be willing to support" such a campaign.
Randy Rowe is a long time proponent of an image building and other professionalism enhancing efforts, as is showcased in this exclusive interview, linked here.
Green Courte's Chairman underscored that ½ of a percent or somewhat more of industry new home shipment revenues could fund a campaign that would rival the size of the highly successful GoRVing campaign, which is about $18 million a year.
Gary McDaniel said he disagreed.
Such a campaign, he argued, "Won't do much for us."
McDaniel's offered up a common argument made by those who oppose such an effort, by saying that local, community level marketing and good business practices would do more for our industry than an image building effort would do.
Yes! Communities McDaniel's went on to say that if someone wants to call our homes a "mobile home," then "God bless them."
"A clean, affordable and safe place to live," said McDaniel, "rather than respectability," is what our industry's traditional home buyers seek.
To this comment Randy Rowe dove in with the comment, that while respecting McDaniel's, "I strongly disagree."
Rowe pointed out that just getting around the "trailer moniker is huge." "These are great homes," Rowe said, built in a "temperature controlled environment."
GCP's Chairman Rowe clearly expressed his conviction that we as an industry would attract more customers including those who are financially more affluent customers by improving our industry's image.
Beyond the NCC Fall Forum thinking
MHProNews has long supported the need for enhanced professionalism, including image building. This includes sales training which GMHA's Jay Hamilton said in this guest column was crucial, combined with image building.
Drew Chairman Leigh Abrams took a position very much akin to that of Randy Rowe in his interview, linked on his name above.
While we would whole heatedly agree with Randy Rowe's position – that a full fledged image campaign has strong merit and value to build the future of land lease communities and the industry at large – the nuance noted above has an echo in Gary McDaniel's call for sound professional performance at the local level.
We'd also take the editorial view that manufactured housing doesn't have to invest 10 million or more to get some benefit from image building. Image can be improved subtly but surely and at a low cost via online efforts, which other presenters at the NCC forum pointed out.
It is precisely with that thought which motivated the launch last summer of ManufacturedHomeLivingNews.com. We are already generating leads for pros via that platform that attract customers who may not have considered the manufactured housing option otherwise.
The Industry In Focus Report on the study by NAR and Google on Why You Should Target Home Shoppers Online clearly underscores the value of doing such online image building efforts.
Sam Landy of UMH Properties fame stated in his interview linked on his name that he sees how the industry could rise to 300,000 to 400,000 shipments again. Image building is part of the key!
UMH and CU Factory Built Lending are among those early supporters for this online image building effort.
Until the industry is willing to invest millions, a small fraction of that and the 3 easy steps found on the download linked at the end of the article here would turn ManufacturedHomeLivingNews into a significant force fueling more sales, could improve our political clout and improve the image for communities and our industry at large.
It is better to light one candle than to curse the darkness. Those interested in "lighting candles" are encouraged to sound off or contact us at the number or email below. We are better off when we advance our image and professionalism together. ##
PS: Check our many Exclusive and Red Hot Featured Articles for October and see the other new stories at MHLivingNews.com too.

L. A. 'Tony' Kovach
ManufacturedHomeLivingNews.com | MHProNews.com |
Business and Public Marketing & Ads: B2B | B2C
Websites, Contract Marketing & Sales Training, Consulting, Speaking:
MHC-MD.com | LATonyKovach.com | Office 863-213-4090
Connect on LinkedIN:
http://www.linkedin.com/in/latonykovach