Search Engine Optimization – or SEO – is one of the many keys to success online. SEO strategies are ever evolving, so it is important to keep up with the latest trends, because what works today could be history tomorrow. If you sell a big ticket item, think about this fact. When you sell just one more home, you are likely getting YEARS of ROI all at once for that effort.
When you can sell an extra home, two or three monthly, it quickly becomes a no-brainer.
What if you aren't technical or web savvy? Because of the high ROI, the math can be in your favor when you either insource this marketing task, or outsource – onshore! – marketing by partnering with a firm like ours that knows the manufactured housing business.
We are going to show you two examples of how in a matter of a few months, a website can go from launching – meaning, last place – to page one on Google. This can be done in a variety of ways. We will show you two in the examples that follow.
The images below are screen captures, using a utility to create the text and arrows. But the results are exactly as shown below for the dates and times shown.
We currently have 3 URLs – web addresses – that all redirect to a single website.
We chose these keywords for some very specific purposes. For example, imagine someone who may want to retire in FL, AZ or south Texas. They may do a search like "manufactured home living FL."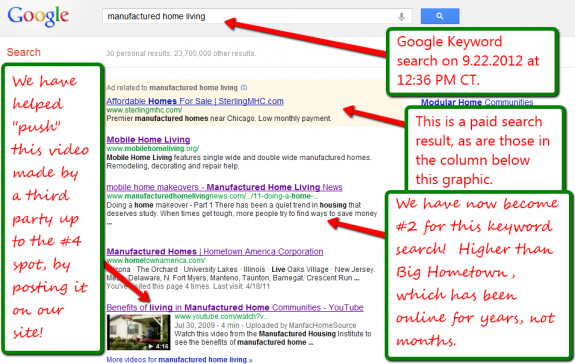 It may be hard to get to page 1 by using "manufactured home" or "mobile home" alone. But by using a keyword set that is underused but still makes sense – such as manufactured home living – you get that nudge in positioning that you see above.
Another strategy to consider is to team your site with a topic that may not directly relate to your core business. But it may be something that you enjoy. The subjects are limitless: politics, religion, recreation, sports, shopping, you name it! Now is there some 'risk' to turning off an audience in favor of another? Yes. So you have to weigh the pros and cons of that 'risk.'
But what if the benefits of that strategy outweighs the risks?
See the example below.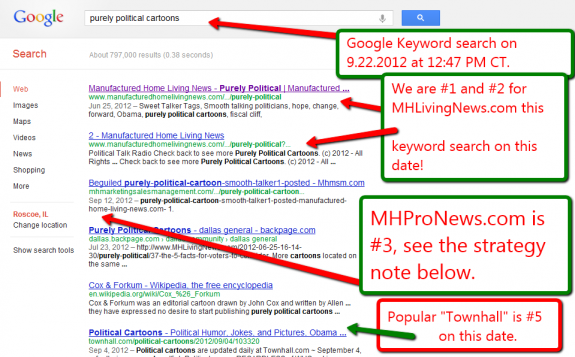 We took that "risk" by using MHLivingNews.com (remember, the same website as shown above) as a platform for posting a new series we named "Purely Political Cartoons."
Guess what? Political cartoons are popular. Some will do a keyword search for purely "political cartoons," they don't care or aren't searching for any other kind of cartoons.
The result? As you can see above, we are now #1 and #2 on Google for that keyword combo! Townhall – a popular conservative political site – is #5 on the search, as you can see above.
MHProNews.com – which also uses MHMarketingSalesManagement.com and MHMSM.com as urls – has become #3 for this keyword search, by posting the start of a cartoon and linking it to the rest of that cartoon.
See the example of this strategy below.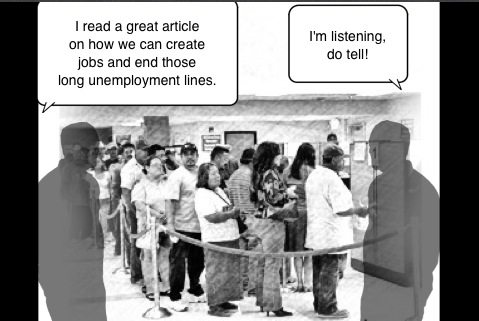 This cartoon we called Ending Unemployment.
Click the link above to see the rest of this 4 panel cartoon.
For those of you who want to learn more about this web marketing strategy, or who want to do a site update or build a new site, please click this link or send me an email with the words like WEB & SEO in the subject line.
MHLivingNews.com is becoming the de facto image building platform for the manufactured housing industry at large. We are starting the process of 'teaming up' with retailers and others to advertise, share links and do other strategies that result in profit making win-win victories for all involved.
Do it in house, Do it Yourself or Outsource the Job
Some like to 'do it yourself,' so we share articles like these that can spark ideas for those do it yourselfers.
Others want to hear live presentations on subject like marketing, which we do at association events like the upcoming Iowa Manufactured Housing Association annual meeting, or at major trade shows such as the Louisville Manufactured Housing Show and the Tunica Manufactured Housing Show.
But for those who know that time is money, and that hiring a pro can save you time and make you money, dare to compare what you can gain by 'teaming up' with us as your web or marketing service provider. 1 sale may pay for months or years of service. When you get an extra 1 or 2 or 3 more sales monthly, it rapidly goes to the 'no brainer' category.
Smarter SEO, Web and other Marketing Methods can make all the difference. Be creative, measure the results and have fun while you make more money. ##
L. A. "Tony" Kovach
MHLivingNews.com=Re-Discovering and Spotlighting the MHLifeStyle
MHProNews.com = MHMSM.com = Industry News, Tips and Views Pros can Use
Services:B2BandB2CAds, Proven MH Marketing & Sales Systems, Websites other Industry Solutions.
Office –815-270-0500
latonyk@gmail.com or tony@mhmsm.com
LATonyKovach.com
http://www.linkedin.com/in/latonykovach= connect with me on Linkedin.
http://pinterest.com/latonyk/manufactured-home-lifestyle/
+++
Whether you think you can or whether you think you can't, you're right. – Henry Ford