Let's be candid. You can say all kinds of great things about your business. But what matters more to a retail shopper is a testimonial. Its not that they won't listen to you, but some studies suggest that the impact of a third party testimonial is 7 times to 8x greater than just your own marketing message.
Here is an actual example from the MH World, in Westville IN.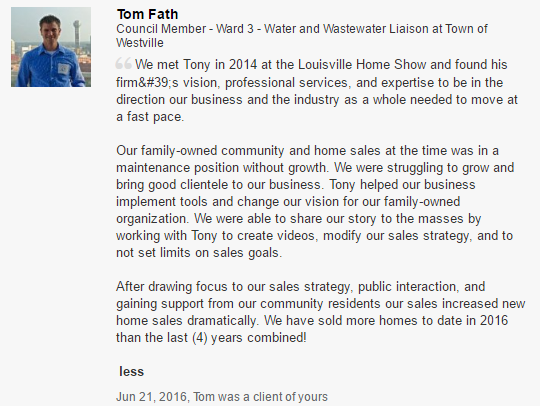 This client is not the only one, there are more!  But they're among those who've discovered what it means to have a total marketing and sales process geared to attracting the site built buyer.  Testimonials and the right kinds of vidoes are just part of that attraction-marketing/sales plan. FYI – a third party testimonial is one done by a third party, not one done as a kind of an ad for the operation in question.  See MHLivingNews.com for more examples.
Keep in mind the average site built buyer has a credit score north of a 720 FICO
Note that the client above historically did retail – they had a separate MH Retail sales center. Now they're doing only in community sales. Might they go back to doing 'street retail?' Time will tell!  But this process is working for retailers, communities others in MH.
Marketing and Sales should dovetail. You already are getting customers who are – what we lovingly call – the MH shopper.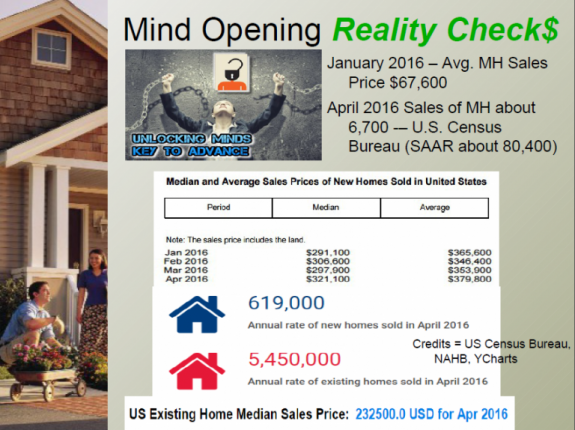 But the reality is that the new MH shopper is only 1% of the total of all new and resale home sales in the U.S. Who says? Industry stats – National Association of Home Builders (NAHB), Manufactured Housing Institute (MHI), Manufactured Housing Association for Regulatory Reform (MHARR) and National Association of Realtors ® (NAR).
Here is a powerful consumer testimonial video.
Not all testimonials have to be from consumers. Here's one from a housing inspector!
The site built customer shops for weeks or months before they reach out to you in a visible way. You have to have a long term engagement strategy. We can show you how that's done.
The path ahead for YOUR community or for YOUR retail center is to attract and sell more of the site built customers. There may well be more MH shoppers now than 5 years ago. But there are 99 times more conventional housing shoppers than new MH buyers.
Want to grow sales sustainably and profitably in your market(s)? The combination of the right marketing, the right sales system – that's the key for advancement.
Oh, yes! Speaking of testimonials, check out Wayne Coakley's article this month on the power of video testimonials. You'll be glad you did.  ##